Player testimonials
"I have played at many online casinos and I would just like to say that Win A Day is the BEST casino that I have played at. Their games are all one of a kind you won't find them anywhere else. The customer service support is fantastic. If you haven't played at Win A Day I suggest you do."
"Straight up guys, you nailed it, this casino is so new and different and so much fun. The odds are so fair, bonuses and games are too great not too invest in them. I've been gambling online for a long time and played in many casinos but have never had this much fun anywhere else. I highly recommend it!"
"I started at Win A Day's sister site, Slotland, over 10 years ago, and I did not think that I would find an online casino that I liked better...that was until I played a couple of times at Win A Day! Playing here is so much fun, I have not been to my favorite land casino in over a year! That, is a loyal player!"
"I truly love this site and the best part is NO DOWNLOAD!! That and the fact that you have the most unique games is what causes me to continue to play. In addition to really enjoying the games, you have wonderful support staff. It's a lot of fun, good job!"
A Look at Casino Games (Part 2)
Posted on December 13, 2013
Welcome back for the second part of Win A Day Casino's in-depth perspective of casino games. Slot games are very popular with our players for many reasons, but we also offer a great selection of table games. Today we're taking a look at the styles of Roulette.
European Roulette
Roulette players have a variety of betting options. Placing inside bets is either selecting the exact number of the pocket the ball will land in, or a small range of pockets based on their proximity on the layout. Players wishing to bet on the 'outside' will select bets on larger positional groupings of pockets, the pocket color, or whether the winning number is odd or even. The payout odds for each type of bet are based on its probability. This style is most common among casino games.
The roulette table usually imposes minimum and maximum bets, and these rules usually apply separately for all of a player's inside and outside bets for each spin. For inside bets at roulette tables, some casinos may use separate roulette table chips of various colors to distinguish players at the table. Players can continue to place bets as the ball spins around the wheel until the dealer announces, "no more bets." When a winning number and color is determined by the roulette wheel, the dealer will place a marker, also known as a "dolly", on that winning number on the roulette table layout. When the dolly is on the table, no players may place bets, collect bets, or remove any bets from the table. The dealer will then sweep away all other losing bets either by hand or rake, and determine all of the payouts to the remaining inside and outside winning bets. When the dealer is finished making casino games payouts, the marker is removed from the board where players collect their winnings and make new bets. The winning chips remain on the board.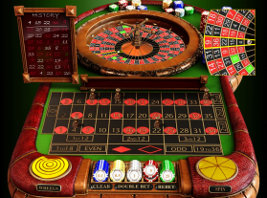 California Roulette
In 2004, California legalized a form of casino games roulette known as California Roulette. By law, the game must use cards and not slots on the roulette wheel to pick the winning number. There are at least two variations. In some casinos, the dealer spins a wheel containing 38 cards from 1 to 36, plus 0 and 00, and after betting is closed, stops the wheel; a pointer identifies the winning card, which the dealer removes and shows to the players. In the Cache Creek casino in northern California, a wheel resembling a traditional roulette wheel is used, but it has only alternating red and black slots with no numbers. As the ball is spinning, the dealer takes cards from a shoe and places two of them face down on the table in red and black rectangles. When the ball lands in a red or black slot, the card in the corresponding rectangle is turned over to reveal the winning number.