Player testimonials
"I started at Win A Day's sister site, Slotland, over 10 years ago, and I did not think that I would find an online casino that I liked better...that was until I played a couple of times at Win A Day! Playing here is so much fun, I have not been to my favorite land casino in over a year! That, is a loyal player!"
"I have cashed out at other places but you made the process unbeatable, you kept me informed throughout and all this at no cost to me. My new saying about your casino is "Why play with the rest, when you can play at the best!" Win A Day/Slotland casinos an experience you will never forget."
"Win A Day is the place to play, come one come all. A place of fun and games galore! Great customer service, deposit bonuses and surprises. It's is the best casino and definitely worth your time. Thanks Win A Day for all you do, I will always support you."
"I have played at many online casinos and I would just like to say that Win A Day is the BEST casino that I have played at. Their games are all one of a kind you won't find them anywhere else. The customer service support is fantastic. If you haven't played at Win A Day I suggest you do."
A Look at Casino Games (Part 4)
Posted on December 19, 2013
Welcome back for the fourth part of Win A Day Casino's in-depth perspective of casino games. Slot games are very popular with our players for many reasons, but we also offer a great selection of table games. Today we're taking a look at how to play Blackjack.
Blackjack is a classic casino game. Originally, blackjack played in Las Vegas casinos had a house edge of almost 0%. Throughout the 60's and 70's, blackjack rules changed to protect the casinos from card counters. The blackjack rule changes that the casinos made were so unfriendly to players that the tables were being abandoned. The balance between making the game attractive to players while keeping the game profitable is a challenge that casinos have been playing with for the past 40 years.
How The Game Is Played
The goal of this game is to have a hand, either dealt or drawn, higher than the dealer's hand without going over 21. At the start of a game, the dealer will deal each player, and themselves, 2 cards starting with the player on their left. In a hand held game, which is one or two decks, the cards are dealt face down and the players hold their cards. Cards should be held with one hand and kept over the table at all times. In three to eight deck blackjack game, the cards are dealt face up, between the dealer and the player's bet.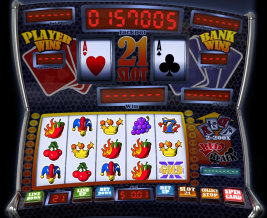 Unique among casino games, the players may not touch the cards at anytime. The dealer's hand will always have one card face up and one card down (the hole card). Each player will then play their hand by drawing more cards, standing, or busting. Finally, the dealer will reveal their hole card and play their hand according to the rules of the table. When the dealer has an Ace up card, the players can insure their hand with an additional wager up to half of the original bet.
Numbers To Know
The Hand Value is the sum of all the cards in a hand. If the total hand value is over 21, it is a Bust and the hand loses. A Soft Hand is a hand in which there is at least one Ace and the sum of the cards, not including the Ace, is 10 or less. Remember the Ace can have a value of 1 or 11. This hand would be referred to as a Soft 16. A Stiff Hand or Hard Hand is a hand without an Ace or a hand with an Ace and the other cards totaling over 10.
The dealer must draw a card if their hand total is 16 or less. The dealer must stand when their hand is a Hard 17 or higher. When the dealer has a Soft 17, the dealer will either be required to draw another card or stand depending on the rules of particular casino games. For your information, the dealer having to stand on a soft 17 favors the player.