Player testimonials
"I have played at many online casinos and I would just like to say that Win A Day is the BEST casino that I have played at. Their games are all one of a kind you won't find them anywhere else. The customer service support is fantastic. If you haven't played at Win A Day I suggest you do."
"I truly love this site and the best part is NO DOWNLOAD!! That and the fact that you have the most unique games is what causes me to continue to play. In addition to really enjoying the games, you have wonderful support staff. It's a lot of fun, good job!"
"Win A Day is a unique, one of a kind casino and I can say from my own experience, you guys are personable and thoughtful to your players. Thanks to your whole team, you guys and gals make a great team together and a great online gaming experience come true! Win A Day is an honest online gaming site that I truly love."
"I started at Win A Day's sister site, Slotland, over 10 years ago, and I did not think that I would find an online casino that I liked better...that was until I played a couple of times at Win A Day! Playing here is so much fun, I have not been to my favorite land casino in over a year! That, is a loyal player!"
Casino Games: Video Poker Tips (Part 6)
Posted on February 14, 2014
Video poker, like many popular casino games, has many different variations. Each one is similar in nature, but has a few small differences. For instance, standard video poker has no wild cards, while "Deuces Wild" does. Once you have learned how to play one variation well, it shouldn't be hard to master a new one. Below you will find a description of some of the most popular online video poker slot machine games variations.
Jacks Or Better
Jacks or Better has quickly become one of the most popular variations of video poker out there - it's also the simplest. Like the name suggests, this variation pays out whenever you get a pair of jacks or better. The odds of getting a paying hand in this game are about 1 to 4, so you can expect to win quite often. The payout percentages for this game, when played with a proper strategy, are quite generous. If you know what you're doing and commit to follow a specific game plan, you can expect a very high return with this game over the long run.
Deuces Wild
As you can probably guess, this variant of the ever-popular game of video poker casino games values all 2's as "wild cards". For those who don't know, a wild card (a 2 of any suit in this case) can be used as any card. So, if you have an ace, 5, and a 2, you now have a pair of aces. The only difference between wild cards in video poker and wild cards in regular poker is that there are smaller payouts for "unnatural" hands.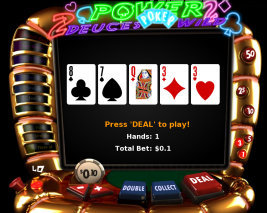 Double Bonus
Double Bonus is a very popular game - almost as popular as Jacks or Better. Double Bonus offers higher payouts for four-of-a-kind hands, and an especially generous payout for a hand of 4 aces (800 coins for a 5-coin bet). The payout for four 2's, 3's, or 4's is 400, and 250 for four 5's-kings.
Aces And Eights
Aces and Eights is similar to Jacks or Better casino games, but with higher payouts for four aces or eights. The payout for that hand is generally 400, while the normal payout for four of a kind is only 125. Because of the low payout percentage, this game is not quite as popular with hardcore gamers. However, it is a very enjoyable game and a good way to take a break from the normal variations.
Jokers Wild
Jokers Wild is one of the very few video poker casino games variations that use a 53-card deck. The added card is, obviously, the joker. Because of the added card and the fact that it is wild, the minimum payout is different than usual. Typically, the minimum paying hand is a pair of kings, 2-pair, or a pair of aces, depending on the specific casino and their preferences. Jokers Wild machines add an increased payout for "5 of a kind" hands.