Player testimonials
A fair, honest, and professional business. There are many players out there searching for the peace of mind and integrity that accompanies a reputable site such as Winaday. I want to thank all employees, top to bottom, for the stellar service provided."
Out of all the casinos I have played at, having played for many, many years now, Winaday is by far the best. And has the BEST of everything! The games are top notch and have great payouts.
Winaday makes a long commute to work fly by! Some of the best games are available to play on my phone.
"The games at Win A Day are so different to other casinos, they have so many unique features that really make them stand out! I will return to play here over and over again. When you combine the wonderful games, superior customer support and terrific daily promotions it's a no brainer. Win A Day is a winner for me!"
Casino Games Advice (Part 3)
The key to success when playing casino games online is having a true understanding of how the games are played. From poker to blackjack, these games have many levels that truly add to the strategy of playing. Our instant play casino offers many ways to play and many chances to win real money online. Today we will examine Blackjack.
Blackjack
Blackjack is a game that can seem really very simple, but has a surprising amount of depth. Blackjack casino games are a favorite around the globe and people are intrigued by the mathematical possibilities in such a simple game. By learning a few simple tips, players can take their blackjack experience a long way. Learn the "basic strategy" and you are bound to be an even happier blackjack player.
The dealer is always obliged to take a "hit" on every hand less than 17. So, you too must take a "hit" on anything less than 17. You can hope that the dealer will be forced to "bust", however. It is shown that more than 40% of the time a dealer will bust when his up card is a 4, 5, or 6. For this, some players "stay" with a hand over 11 when the dealer is showing one of these cards.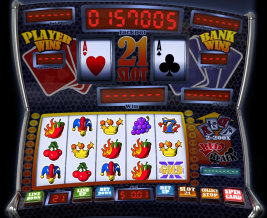 Players are dealt a starting two-card hand and add up the value of their cards. Face cards such as kings, queens, and jacks are counted each as ten points. Players and/or the dealer can look at his or her held Ace as 1 point or 11 points depending on what they prefer. All other cards are simply counted as the number value indicated on the card.
Common Terms
"Splitting" is a great opportunity to make one hand into two possible wins. If you are dealt two cards of the same value, split them. The exceptions to this are face cards, 10s and 5s. Never split these cards, since the 20 points of two tens is very hard to beat, and the two fives are a good chance for you to bust twice.
"Doubling down" may be the best chance to raise your advantage over the house. Doubling down means that you take the opportunity to double your bet and take another card because you feel pretty confident that you can beat the dealer's hand. Online casino games are incredibly popular and have been gaining in popularity for decades.
The next level of becoming serious about your blackjack play is to learn the basic strategy. The basic strategy is something very specific. Depending on the total of your two cards and the one face up dealer's card, these charts tell you what to do.