Player testimonials
Out of all the casinos I have played at, having played for many, many years now, Winaday is by far the best. And has the BEST of everything! The games are top notch and have great payouts.
I don't know why I sometimes play at other online casinos as they don't come close to yours. Winaday casino makes it so easy and simple if you ever take advantage of a promotion or bonus. Everything you want in an online casino is at Winaday casino!
I have been playing Winaday for a long time and you are my favorite. I have basically stopped playing most of my other casinos and WinADay is the ONE.
The support agents have an exceptional talent, always cheerful and genuine, by far the top representatives in the online business. They are the best when it comes to reminding players of Promotional and Bonus Specials!
Casino Games Advice (Part 4)
Our clients enjoy variety and fun, and no other online casino offers better casino games than Win A Day. Our real money slot games are unique and exciting, while our table games are new spins on time-honored classics.
Slot casino games are one of the simplest casino games that you can play. What we know about games that require little to no skill is that there is very little way to manipulate the outcome of the game. Slots games are a game of luck and patience. Typically a study on this topic will be a list of common myths in the slots world and then why these beliefs are not true.
All casino games have one thing in common with one another, and that is learning to manage your money. When you enter into a game of slots, you should have a clear understanding of which coin amount you can play at and when to turn tail and go home. In this same vein, begin to keep a record of your wins and losses. By keeping track of all of your real money won and lost, you can make betting and strategy adjustments.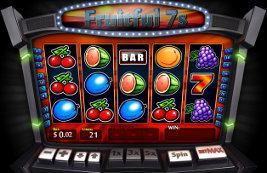 Understand The System
Play the casino games you understand. There are many varieties and ranges in complexity of our casino games. If you review the pay table on the front of the machine, it will show you the number of reels and the winning combinations on the machine. If you are still new to the slots, it may be in your best interest to start with the easy single-reel machines and then work your way up to the more complicated three-reel machines.
Video slot machine casino games typically encourage the player to play multiple 'lines', so rather than players taking the center of the three symbols displayed on a given reel, a line could go from upper left to lower right, or any of the other patterns specified by the manufacturer. The difference for the player is that the more lines he plays the more likely he is to get paid on a given spin though he is betting more in the first place.
If you want to win at slots, the best advice is to hold onto your winnings! After you win an amount that covers your initial "investment" into the game, then put your winnings aside. The true way to win at slots is to use common sense and don't let the excitement carry you away. Play your very best and hope for good luck, but don't forget a cool-headed approach to casino games is the true way to walk away a winner consistently.