Player testimonials
"Win A Day is the place to play, come one come all. A place of fun and games galore! Great customer service, deposit bonuses and surprises. It's is the best casino and definitely worth your time. Thanks Win A Day for all you do, I will always support you."
"I started at Win A Day's sister site, Slotland, over 10 years ago, and I did not think that I would find an online casino that I liked better...that was until I played a couple of times at Win A Day! Playing here is so much fun, I have not been to my favorite land casino in over a year! That, is a loyal player!"
"Straight up guys, you nailed it, this casino is so new and different and so much fun. The odds are so fair, bonuses and games are too great not too invest in them. I've been gambling online for a long time and played in many casinos but have never had this much fun anywhere else. I highly recommend it!"
"The games at Win A Day are so different to other casinos, they have so many unique features that really make them stand out! I will return to play here over and over again. When you combine the wonderful games, superior customer support and terrific daily promotions it's a no brainer. Win A Day is a winner for me!"
Casino Games Advice (Part 8)
Posted on March 26, 2014
European Roulette is the original variation of the many casino games that have descended from it like American Roulette. Today, we'll look at the basic rules of playing this classic game offered at our instant play casino.
European Roulette
After Blaise Pascal created the first roulette wheel in France for his scientific research, the game eventually took its shape into the casino games classic we now know. After traveling through Europe, it found its way in Germany where competing casinos offered two versions of the roulette wheel. One casino enjoyed the comfortable house edge of a roulette wheel with a 0 and 00, while the other made an effort to burst into the market with only one single 0 slot on its wheel.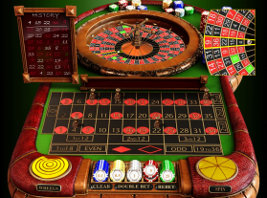 Luckily Europeans aren't the only ones allowed to play this version since its house edge is half of the American roulette wheel at 2.7%. In fact, the term "European" roulette is a broad idea and typically means a roulette wheel with a single zero and is not restricted to European casino games. Often you will hear the term "French" roulette to describe a few certain other particulars that could further differentiate the American version from its French relative.
New Rules
Another great advantage with the European roulette is the additional rules that can be used to decrease the house edge even more. One great rule to understand is called "in prison" and means that if the roulette ball lands on the 0, those bettors with money on the outside bets will get half their money back. That's right, half your money back for a losing bet when the ball lands on 0, decreasing the house edge even lower.
Also check out the "en prison" rule. This rule in European roulette means that if the ball lands in the 0 slot, your money is put "in prison" until the next spin. If, on the next spin, your number from the previous spin is hit, then your bet is released without any winnings. If the ball hits zero in a game of "en prison" roulette, then on the next spin hits zero again, what happens? In some cases, your bet is double imprisoned and to have your money released you will have to hit your number twice in a row.
European roulette casino games offer some advantages for the real money player over the American version. There are several rules that may seem complicated at first. If you are anxious to try these rules out, the online casinos offer absolutely free rooms to do so. Get comfortable with the style and flow of play whichever version you like to play.