Player testimonials
"Win A Day is a unique, one of a kind casino and I can say from my own experience, you guys are personable and thoughtful to your players. Thanks to your whole team, you guys and gals make a great team together and a great online gaming experience come true! Win A Day is an honest online gaming site that I truly love."
"Win A Day is the place to play, come one come all. A place of fun and games galore! Great customer service, deposit bonuses and surprises. It's is the best casino and definitely worth your time. Thanks Win A Day for all you do, I will always support you."
"I started at Win A Day's sister site, Slotland, over 10 years ago, and I did not think that I would find an online casino that I liked better...that was until I played a couple of times at Win A Day! Playing here is so much fun, I have not been to my favorite land casino in over a year! That, is a loyal player!"
"I truly love this site and the best part is NO DOWNLOAD!! That and the fact that you have the most unique games is what causes me to continue to play. In addition to really enjoying the games, you have wonderful support staff. It's a lot of fun, good job!"
Manage Your Bankroll with Casino Games
Posted on July 8, 2014
Internet gaming and casino games winnings total over $200 million every year. While that figure sounds impressive, it's always smart to manage your bankroll wisely whether you're playing instant casino games, slots or video poker on online casino sites. Experts in the industry will always say that casino players need a sound bankroll management strategy. This applies to both novices and seasoned players. Without some rules in place, you just might wind up spending more than you can afford.
No matter which casino games you choose to play, the first step to a sound bankroll management strategy is to set a budget for your gaming spending. Decide on a percentage of income that you can afford for this type of entertainment. For example, you may decide that 2 percent to 5 percent of your income is easily doable. Limit the time you spend with the online games in accordance with that set percentage.
Online gambling is fun but can be addicting. Some players just have difficulty gambling responsibly. This is why it is so important to limit the amount of time you spend with online games. Like the amount that you spend, set a limited timeframe and stick with it.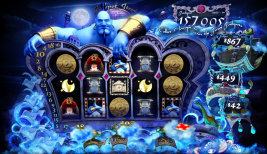 Once you've set a budget, you must commit to sticking to it. Keep in mind that no player can win every time and be prepared to lose from time to time. Do not decide to cover your losses by spending more money. The only wise time to do this is if you've received some unexpected income, such as birthday cash or a work bonus.
If you're on a winning streak, go ahead and bank your winnings. With this cash put aside, there's no risk to losing in future casino games. Another savvy money move is to bank the winnings after you've made a profit on the initial deposit. This way, you can start all over again with just the same amount originally deposited.
Don't be afraid to grab a family member or buddy for help. Tell them of your bankroll management strategy and have them hold you accountable to it. In addition, if you suspect you have a gambling problem, be sure to reach out for help. There are plenty of non-profit organizations that can help you regain control.
Before you start playing, be sure to have a firm understanding of the rules instead of being starry-eyed with the promotions, prizes and potential jackpot winnings. Knowledge is real power when it comes to online gambling.
At Win A Day Casino, we are committed to providing our players with a safe platform to engage in online gambling. We offer free practice plays, so our customers can have a hands-on learning experience without spending any money. We also offer daily promotions, tournaments and cashback prizes.