Player testimonials
I have been playing Winaday for a long time and you are my favorite. I have basically stopped playing most of my other casinos and WinADay is the ONE.
Winaday makes a long commute to work fly by! Some of the best games are available to play on my phone.
I don't know why I sometimes play at other online casinos as they don't come close to yours. Winaday casino makes it so easy and simple if you ever take advantage of a promotion or bonus. Everything you want in an online casino is at Winaday casino!
A fair, honest, and professional business. There are many players out there searching for the peace of mind and integrity that accompanies a reputable site such as Winaday. I want to thank all employees, top to bottom, for the stellar service provided."
Popular Casino Games
While most people like to gamble for fun, not everyone likes the same casino games. Each game has its own fans, and offers a different style of play. Here are some of the most popular casino games that are played around the world.
Bingo
Bingo is played by a group of people attempting to match randomly picked numbers to the printed numbers on their card. Bingo cards display a 5 x 5 matrix with the letters B, I, N, G, O running across the top of the columns. Players are required to form a line of matches vertically, horizontally or diagonally in a row to win. The player who matches the correct pattern first is the winner.
Baccarat
Baccarat is a more complicated game which offers players the choice of player, tie or banker. Players place bets; then the dealer passes out two two-card hands to each player. One hand represents the banker; the other is the player. Players add up their hands. If the hand totals more than ten, the player drops the ten. For example, if the hand totals 15, it would be worth five. Hands that equal exactly ten become a zero or baccarat. Players win if they bet on the right hand to win.
Keno
Keno is similar to playing the lottery. Players get cards numbered from one to 80. Players can pick up to twenty numbers and wager on them. A caller announces twenty random numbers. If the player can match their own numbers to the ones announced, they win money against their placed wager.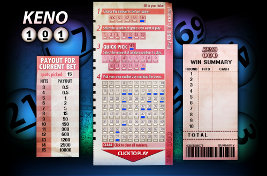 Roulette
Roulette is a game of chance. A player places their chips next to the numbers which they are wagering. Bets can be offered for numbers zero to 36, even/odd, red/black, columns and special number combinations. Players can bet until the dealer announces no more bets. At this point, the dealer spins the roulette wheel clockwise and rolls the roulette ball counter-clockwise. Once the ball stops and lands, all bets are paid that match where the ball landed.
Slot Machines
Slot machines play a variety of games, and are one of the most popular forms of real money casino play. Most slots accept coins as payment which starts the game. The player pulls a handle or presses a button to get the machine's wheels to spin. When all of the wheels are stopped, winnings are paid to the player based on the amount bet and the results.
Blackjack
Blackjack, a card game played with the house, is based on the number twenty-one. The house dealer passes out two cards to each player, one face up and one face down. Players can request a third card. The goal is getting to twenty-one without going over. Aces equal either one or eleven, face cards equal ten and number cards are the face value. Players have the option of doubling their bet or splitting their set of cards in specific situations. Once the game is finished, all players reveal their cards to find the winner. Anyone who beats the dealer in each hand is a winner.
Casino games are a lot of fun to play whether you are at a brick-and-mortar casino or playing them online on the Internet. Playing online slots for real money is one way to get limbered up before you go on a casino vacation. Many of the most popular games can be found on sites such as Win A Day Casino. Not only that, but you can earn money for future travels from your play as well.