Player testimonials
"I have cashed out at other places but you made the process unbeatable, you kept me informed throughout and all this at no cost to me. My new saying about your casino is "Why play with the rest, when you can play at the best!" Win A Day/Slotland casinos an experience you will never forget."
"I have played at many online casinos and I would just like to say that Win A Day is the BEST casino that I have played at. Their games are all one of a kind you won't find them anywhere else. The customer service support is fantastic. If you haven't played at Win A Day I suggest you do."
"I truly love this site and the best part is NO DOWNLOAD!! That and the fact that you have the most unique games is what causes me to continue to play. In addition to really enjoying the games, you have wonderful support staff. It's a lot of fun, good job!"
"I started at Win A Day's sister site, Slotland, over 10 years ago, and I did not think that I would find an online casino that I liked better...that was until I played a couple of times at Win A Day! Playing here is so much fun, I have not been to my favorite land casino in over a year! That, is a loyal player!"
How To Find Casino Games With No Skill Involved
Posted on September 22, 2014
There are two types of casino games found in any casino, brick and mortar or online. There are the games of skill and the game of chance. If you have avoided casinos in the past because games like Black Jack, Craps, and Roulette look too complicated, you haven't truly explored the casino floor to see all of the offerings.
While there are various skill-based games inside of a casino, there are many others as well. You will want to find some of the slot machine games so that you can see how easy it is to play a game and be given the chance to win real money. All you are required to do is insert money, choose how much you want to wager per spin, and spin.
Depending on the slot machine that you sit at, there may be multiple paylines. This essentially means that there are multiple ways in which winning combinations can be created - which is good for you. Traditional slot machine paylines went straight across. Now they can be diagonal, zig zag, and create various shapes across the screen. It's common to see 20 paylines.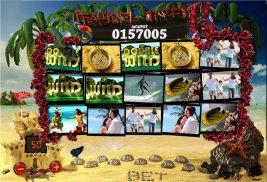 When you place a bet, such as 5 cents, in a slot, you are making that bet per payline. As such, each time you spin, you are betting a total of one dollar. It is important to do the math on these things so you know just how much you are spending. While there is no skill involved with these games, you do have to do some basic math before you sit down.
Once the bet is made, you hit spin and sit back to see what happens. If there is a winning combination, you win. There is nothing else for you to do. If you play on a slot that has a bonus round, you may hit a combination periodically that triggers the bonus. These can be a lot of fun and multiply the winnings that you already have.
If you hit a bonus, all of the instructions are on the screen. This allows you to know exactly what needs to be done. It is still luck-driven. You don't need skill to choose a particular number or box because it is done randomly.
Depending on the casino, the other casino games that don't require any skill include keno, scratch offs, and bingo. You never have to get into the skill-based games if you don't want to. However, many of the casinos offer tutorials on the table games so if you do decide that you want to play one day, you can learn how to play from the website.
Online casinos and brick and mortar casinos have the same selection and if you know what games to look for, no skill is required.