Player testimonials
I have been playing Winaday for a long time and you are my favorite. I have basically stopped playing most of my other casinos and WinADay is the ONE.
"The games at Win A Day are so different to other casinos, they have so many unique features that really make them stand out! I will return to play here over and over again. When you combine the wonderful games, superior customer support and terrific daily promotions it's a no brainer. Win A Day is a winner for me!"
"I enjoy all of your games, it is difficult to to pick ONE favorite! I get bored quickly with other casinos but at Win A Day I just want to keep playing - its what a casino should be! As if that's not enough, the frequent bonuses, contests, tournaments, and other promotions keep me coming back to be a part of all the FUN! Win A Day, thank you!"
"I have cashed out at other places but you made the process unbeatable, you kept me informed throughout and all this at no cost to me. My new saying about your casino is "Why play with the rest, when you can play at the best!" Win A Day/Slotland casinos an experience you will never forget."
On the History of Casino Games
History of Casino Games
The first gambling house recognized as being the first casino was the Ridotti in Venice, which offered gambling games during the festival of Carnival. Modern casinos evolved from those beginnings to offer card games, table games, and slot machines.
Card Games
Poker
The origins of poker are not clear. There are ancient games such as the Persian game called "As Nas", a French game called "pogue" and an Irish game called "poca" which may have been the predecessors to the modern game called "poker." What is not disputed is that during the 1800s poker gambling became popular on Mississippi river boats and then spread to the Wild West.
Blackjack
Blackjack came from the Spanish game of twenty-one called "ventiuna" dating from around the 16th century and was first written about by Cervantes (the author of "Don Quiote") in his story called "Rinconete y Cortadillo" about card cheaters.
Table Games
Craps
Craps came from the French game "crapuad" which is the word for "toad" in French because it was first played in the streets where the players crouch down like toads.
Roulette
There are competing theories about who invented roulette, but the most popular idea is the game's invention was in 1655 by Blaise Pascal, a French scientist. The game first became popular in casinos located in France. The European version of the game differs because it has only one green space, the number "0", where the American version adds a second green space of the number "00" which puts the odds more in the favor of the casino operators.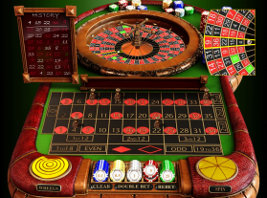 Slot Games
In 1891, the Sittman and Pitt Company in New York promoted the first gambling machines. Nevertheless, Charles Fey from San Francisco, gets the credit for inventing the first slot machine, called the "Liberty Bell" in 1895.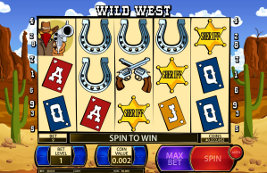 Video Poker
In the 1970s, a man named Si Reed worked for Bally which made most of the slot machines. He tried to convince Bally to make video poker machines, based on the new advancements in computer technology, but Bally had no interest. Bally allowed him to take the patent and he formed a new company called Sircoma to make video poker machines. It took awhile to catch on but, by 1981 video poker became the most popular casino game.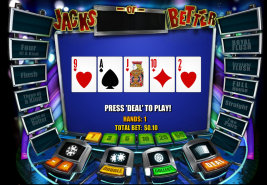 Online Games
Modern technological advancements now allow playing casino games from the comfort of our homes. Some of the most fun games are now online. Our favorites are these:
From ancient times to Mississippi river boat to cowboys playing poker in wild west gold mining culture to modern times where we play online, gambling fun has been, and will continue to be, a part of our lives.