Player testimonials
"I started at Win A Day's sister site, Slotland, over 10 years ago, and I did not think that I would find an online casino that I liked better...that was until I played a couple of times at Win A Day! Playing here is so much fun, I have not been to my favorite land casino in over a year! That, is a loyal player!"
"Win A Day is the place to play, come one come all. A place of fun and games galore! Great customer service, deposit bonuses and surprises. It's is the best casino and definitely worth your time. Thanks Win A Day for all you do, I will always support you."
"The games at Win A Day are so different to other casinos, they have so many unique features that really make them stand out! I will return to play here over and over again. When you combine the wonderful games, superior customer support and terrific daily promotions it's a no brainer. Win A Day is a winner for me!"
"I have played at many online casinos and I would just like to say that Win A Day is the BEST casino that I have played at. Their games are all one of a kind you won't find them anywhere else. The customer service support is fantastic. If you haven't played at Win A Day I suggest you do."
Instant Play Casino Video Poker Advice
Posted on October 25, 2013
One Win A Day Casino's most popular instant play casino games is video poker, and there are a number of reasons for this. Winning a slot machine jackpot is based primarily on luck. You put your money in the machine, hit the spin button and hope that you win. There are no decisions to make that will change the outcome of the spin. On the other hand, many table games require skill and the decisions you make can determine whether you win or lose. Most table games, when played properly, have a lower house edge than the slot machines.
One reason why more people don't play table games in the casino is the intimidation factor that comes about from sitting down at the table with other players. They would like to play games of skill but are concerned about making the wrong play and looking foolish so they feel more comfortable with the solitary play of the slot machines. Our instant play casino completely eliminates this intimidation factor. Video Poker is a gambling game that requires skill and it bridges the gap between slot machine games and table games for many players. Video poker machines, when played correctly, offer a lower house edge than the slot machines. Over the last few years, video poker has been gaining in popularity in all casinos and is a hot feature in our instant play casino.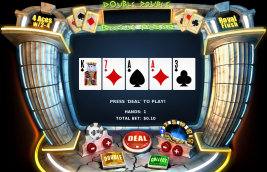 How To Play
Video Poker is based on the game of draw poker and has virtually the same rules except that you are not playing against any other players. The machine deals five cards on the screen. The player then has the option of drawing up to five new cards. In some instances you may not want to draw any new cards. You keep the cards you want to keep by pushing the "hold" button that corresponds to the card on the screen. When you have made your choice you hit the "deal" button and new cards will replace the cards you've discarded. Your win or loss is determined by the outcome after of your final hand after you hit the draw button. How much you win is based on the pay table that is posted on the front of the machine.
Payouts
One advantage that video poker has over regular slot machines is that you can determine the return of the game by reading the pay table on the front of the machine. Most video poker games use the combinations of hands that can be made from a standard 52-card deck. One popular variation of the game is Deuces Wild, which uses a 52-card deck but the deuces are wild cards. With a set number of combinations that can be made from the cards used in the game the payout can be calculated by how much the machine pays for each winning combination. Understanding the rules of play will help players to become stronger and have a serious advantage when playing video poker in Win A Day Casino's instant play casino.
Featured Video:
Play at Win A Day Casino, The Best Instant Play Online Casino
The best part is that you can enjoy the instant play casino games from the confines of your home or office. Start playing now!