Player testimonials
"Straight up guys, you nailed it, this casino is so new and different and so much fun. The odds are so fair, bonuses and games are too great not too invest in them. I've been gambling online for a long time and played in many casinos but have never had this much fun anywhere else. I highly recommend it!"
"I truly love this site and the best part is NO DOWNLOAD!! That and the fact that you have the most unique games is what causes me to continue to play. In addition to really enjoying the games, you have wonderful support staff. It's a lot of fun, good job!"
"I started at Win A Day's sister site, Slotland, over 10 years ago, and I did not think that I would find an online casino that I liked better...that was until I played a couple of times at Win A Day! Playing here is so much fun, I have not been to my favorite land casino in over a year! That, is a loyal player!"
"Win A Day is a unique, one of a kind casino and I can say from my own experience, you guys are personable and thoughtful to your players. Thanks to your whole team, you guys and gals make a great team together and a great online gaming experience come true! Win A Day is an honest online gaming site that I truly love."
Win A Day' Instant Play Casino Lets You Gamble From Anywhere
Posted on May 15, 2014
If you want to enjoy some weekend fun, plan a special night, or take a getaway, you may think to play some slot games. Casinos offer an exciting retreat from the everyday, allowing visitors to relax, gamble if they prefer, and very often spend the night in a lavish hotel room. The concept of the instant play casino is changing the face of gambling though, allowing customers to play at a faster and easier rate than ever before from the comfort of their own homes. As the world of casinos changes, so do slot games.
Already, some casinos and resorts allow visitors to use Bitcoin to play. This is a type of online currency makes it far easier to begin enjoying casino fun without ever having to leave home. Not only that, but in the future, you will be able to use Bitcoin to buy food at restaurants and souvenirs at a gift shop if you do visit a casino. This speed means that you can get right to the slot game or whatever other type of entertainment that you enjoy.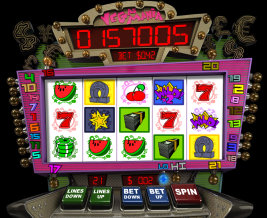 Other casinos are changing the way that slot machines function. From the back rooms of most casinos, some operators can alter these games in many ways, including the requirements for playing, the requirements for winning, and the amount of money that you can win. Beyond that, these games don't ever have to go stale. The operator can also change the theme of the slot game exclusively through a computer program. The ability to adjust the currency used for play can come in handy if more instant play casinos start using Bitcoin.
For an instant play casino experience that you won't ever forget, you should visit us at Win A Day Casino. We have offered a range of games since 2007, allowing you to log in and play from anywhere. We offer you a 500 dollar welcome bonus for joining with us, which you won't have to wait long to do. After registration, you can start playing slot games within two minutes. You never have to question your security when you log on to Win A Day Casino's website. We offer safe gaming and a stellar reputation for customer service.
You can enjoy any game that you would play at a casino, such as penny slots, video poker, and table games like keno and roulette. We don't require any pesky downloads either for you to engage in any of these exciting games where you can win instantly. We accept many credit cards for play, such as Visa and MasterCard. Your information remains securely encrypted within our system. If you win at any of our games, including the slot games, we ensure a quick payout. Visit our website today to get started.