Player testimonials
The support agents have an exceptional talent, always cheerful and genuine, by far the top representatives in the online business. They are the best when it comes to reminding players of Promotional and Bonus Specials!
A fair, honest, and professional business. There are many players out there searching for the peace of mind and integrity that accompanies a reputable site such as Winaday. I want to thank all employees, top to bottom, for the stellar service provided."
I have been playing Winaday for a long time and you are my favorite. I have basically stopped playing most of my other casinos and WinADay is the ONE.
"I enjoy all of your games, it is difficult to to pick ONE favorite! I get bored quickly with other casinos but at Win A Day I just want to keep playing - its what a casino should be! As if that's not enough, the frequent bonuses, contests, tournaments, and other promotions keep me coming back to be a part of all the FUN! Win A Day, thank you!"
Online Roulette Bets and Odds
Online roulette players can bet in several ways. Inside bets can be placed either by selecting the exact number of the pocket the virtual ball will land in, or on a range of pockets. Players betting on the outside can place bets on larger groups of pockets, or on a pocket color, or on odd or even numbers.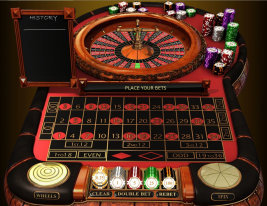 Roulette odds for each type of bet are based on its probability. Inside bets have a smaller chance of winning, but the payout is much larger if you do win. Outside bets have better odds of winning, but will give you a lower payout.
Online Roulette Game tables will usually have minimum and maximum bets, which apply separately for all of a player's inside and outside bets on every spin. For inside bets at roulette tables, some casinos may use separate roulette table chips of various colors to distinguish players at the table.
Inside Bets Have Six Variations:
Straight-up bets have the longest odds of winning, since you're betting on just one number. Let's say you bet on on Black 33. If the ball lands in Black 33, you win.
With a Street bet, one bets on all three numbers in a horizontal line, such as 10|11|12 or 22|23|24.
A Split bet is where you are placing a bet on two adjacent numbers - for instance, 27 and 28.
The Corner bet, also known as the Square bet, is made when you are putting money on four numbers that are in a square layout, e.g., 25|26|28|29.
With a Trio bet, you are wagering on either 0|1|2 or 00|2|3, which are in fact the only combinations in which the trio applies.
The Six Line bet is like two Street bets combined, where you might bet on 6|17|18|19|20|21.
Outside Bets Also Have Six Variations:
1 to 18, where bets are placed on the numbers 1 through 18.
19 to 36 similar to the previous example.
Red or Black, based on the color the ball lands on.
Even or Odd, based on the number the ball lands on.
Bets, where you put money on one of the three possibilities: 1-12, 13-24 or 25-36.
Column Bets are similar to a vertical bet, except they include all of the numbers down a vertical line on the roulette board, such as 1|4|7|10|13|16|19|22|25|28|31|34.
Enjoy online roulette! Place your roulette bets & play roulette odds, here on Win A Day!