Player testimonials
"I truly love this site and the best part is NO DOWNLOAD!! That and the fact that you have the most unique games is what causes me to continue to play. In addition to really enjoying the games, you have wonderful support staff. It's a lot of fun, good job!"
"I started at Win A Day's sister site, Slotland, over 10 years ago, and I did not think that I would find an online casino that I liked better...that was until I played a couple of times at Win A Day! Playing here is so much fun, I have not been to my favorite land casino in over a year! That, is a loyal player!"
"I have played at many online casinos and I would just like to say that Win A Day is the BEST casino that I have played at. Their games are all one of a kind you won't find them anywhere else. The customer service support is fantastic. If you haven't played at Win A Day I suggest you do."
"The games at Win A Day are so different to other casinos, they have so many unique features that really make them stand out! I will return to play here over and over again. When you combine the wonderful games, superior customer support and terrific daily promotions it's a no brainer. Win A Day is a winner for me!"
Online Slots For Real Money Makes It Convenient To Gamble
Posted on July 10, 2014
There are many reasons to gamble - and one of the most obvious is for the chance to win money and online slots for real money makes it convenient to play all of your favorite slot machines. Even when you are not close to an actual casino, it easy to play any game that you want, 24 hours a day. Since you can do it all online, you have convenience at your fingertips.
Everyone will argue about the point of gambling. For most, it is for the entertainment value. However, there are always people who play as a way of trying to make more money.
For those who simply want to play slot games for the entertainment value, you can choose to play at any casino or game site. You will have access to slots, but they will not provide any money for winning because it is strictly for entertainment. If you want to play online slots for real money, you will need to locate an online casino where you can make real wagers.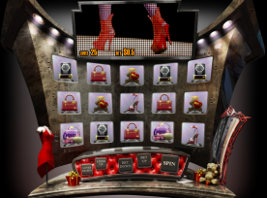 There are many types of slot machines and you will want to explore them in depth to choose a slot machine that is entertaining and provides you with the opportunity to win the kind of cash that you are looking for. Some will allow you to wager as low as 1 pence per line, per spin while others allow you to wager 1 penny or more.
Along with the various types of slot machines in terms of payout, there are also various themes as well as bonus schemes that you can choose from. Online slots for real money can be highly entertaining when you enjoy the game that you are playing. Common slots are based on:
Holidays
TV shows
Movies
Board games
Whether you want to find a slot that is based on the latest Hollywood blockbuster or your favorite game show on TV, you will likely find it at an online casino. You want to be sure you explore some of the different online casinos to find out what their variety is like.
Once you locate a casino where you can find slots that are up to your satisfaction, you can create an account and fund it. This requires wiring money into your account. From there, you have the means to play online slots for real money for as long as you want. As long as you have money in your account, you have the ability to play slots.
As you win, your account will grow in value. You can continue to play with your winnings or cash out and transfer some or all of the money into your bank account. No matter what you choose, playing online makes it easy to gamble when and where it is convenient for you, especially at Win A Day Casino.