Player testimonials
"Win A Day is a unique, one of a kind casino and I can say from my own experience, you guys are personable and thoughtful to your players. Thanks to your whole team, you guys and gals make a great team together and a great online gaming experience come true! Win A Day is an honest online gaming site that I truly love."
"I have played at many online casinos and I would just like to say that Win A Day is the BEST casino that I have played at. Their games are all one of a kind you won't find them anywhere else. The customer service support is fantastic. If you haven't played at Win A Day I suggest you do."
"Win A Day is the place to play, come one come all. A place of fun and games galore! Great customer service, deposit bonuses and surprises. It's is the best casino and definitely worth your time. Thanks Win A Day for all you do, I will always support you."
"I truly love this site and the best part is NO DOWNLOAD!! That and the fact that you have the most unique games is what causes me to continue to play. In addition to really enjoying the games, you have wonderful support staff. It's a lot of fun, good job!"
Tips for Playing Online Slots for Real Money (Part 3)
Posted on November 25, 2014
Playing online slots for real money continues to grow in popularity as the activity offers a fun way to relax. Of course, if you are playing slot games, you definitely want to win as much money as possible. Although slot machines all use random number generators to decide on spin outcomes, you still can benefit from using a few tips to reduce your losses and increase your chance of enjoying a win.
Tip #1 - Decide on a Budget
One of the most important tips for playing slots, whether you are playing online or offline, is to decide on a budget before you play. After you decide on a budget, make sure you stick with it. Playing beyond your budget is a quick way to lose money. You'll score more wins if you always stick to your budget.
Tip #2 - Choose the Right Game
You will also want to choose the right game when playing online slots real money. When trying to choose a slot machine, make sure you chose a game that you really enjoy. Playing slots online is all about having a great time. Pay attention to the coin sizes on the machines. Choose machines that will fit into your budget. If you have a small budget, you'll be able to play a lot longer on a machine that takes smaller bets, such as a nickel or quarter bet machine. Maximize your money with the right slot game and you're more likely to score a win.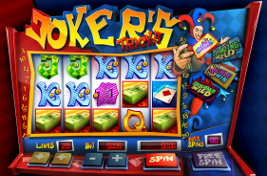 Tip #3 - Bet Max When Required for Winning Bonuses or Jackpots
If you are playing slot machines that have bonuses or jackpots, you'll want to play the max bet. While it's not necessary to play the max bet to win on machines, some machines with bonuses or jackpots do require that you play the max bet. By playing the max bet, you will increase your overall chance of winning.
Tip #4 - Don't Chase Losses
It's easy to start chasing your losses when playing online slots for real money. However, once you chase your losses, it is easy to keep losing. If you keep losing on a machine, don't go over your budget. Chasing losses rarely offers good results. You should also avoid increasing your bet if you continue to lose.
Tip #5 - Cash Out Your Wins
When you win a good jackpot, cash out. You'll win the most that way. Many people make the mistake of continuing to play slot machines until they lose, even when they have some nice wins. Cash out those wins and you'll walk away with a better profit after playing slots online.
Of course, the most important thing to do is have a great time. Playing slots is all about entertainment, so make sure you enjoy all the excitement and keep these tips in mind.