Player testimonials
"I have played at many online casinos and I would just like to say that Win A Day is the BEST casino that I have played at. Their games are all one of a kind you won't find them anywhere else. The customer service support is fantastic. If you haven't played at Win A Day I suggest you do."
"I started at Win A Day's sister site, Slotland, over 10 years ago, and I did not think that I would find an online casino that I liked better...that was until I played a couple of times at Win A Day! Playing here is so much fun, I have not been to my favorite land casino in over a year! That, is a loyal player!"
"I truly love this site and the best part is NO DOWNLOAD!! That and the fact that you have the most unique games is what causes me to continue to play. In addition to really enjoying the games, you have wonderful support staff. It's a lot of fun, good job!"
"I have cashed out at other places but you made the process unbeatable, you kept me informed throughout and all this at no cost to me. My new saying about your casino is "Why play with the rest, when you can play at the best!" Win A Day/Slotland casinos an experience you will never forget."
Play Win A Day Casino's Bonus Poker Slot Games For Video Poker Fun
Posted on April 10, 2013
When you get tired of sitting at the poker table playing with your buddies who arrive late or forget their chips, turn to poker slot games that are always ready for a player to step up to the table and place in their bet. At Win A Day Instant Play Casino, you can find the poker games you are looking for as well as great payouts. One popular game is "Bonus Poker".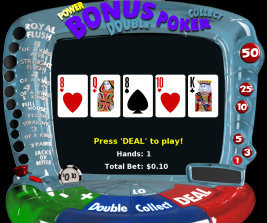 "Bonus Poker" is a game that combines the best qualities of Power Poker with Bonus Poker to give you more value to your payouts. You still have all the winning card combinations as you would expect from a regular card game: three of a kind, straight, flush, full house and four of a kind.
The big difference is that the payout is increased when you go for a four of a kind, even if it is just a combination of Jacks. This is a pleasant change from slot machine games at other websites that seem to pay lower even when you have a higher card combination. For "Bonus Poker", you know that you are placing a bet that can have great returns if you win.
These slot games are pretty easy to play. You place your bet per hand using the large buttons at the front of the game. Then you choose the number of hands you want to play. The cards are dealt as you pick the ones you want to keep. You will then be dealt new cards for the ones you tossed away as you get to see if you have a winning combination. You can even play these online games for real money.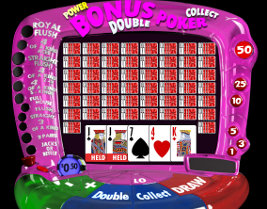 Another thing about the "Bonus Poker" game that is different from other slot games is that you can double your winnings. All your hands are tracked. If you win the game so many times that it exceeds the total number of wagers you betted, you get to play a playoff round by clicking the "Double" button. In this round, you get to bet all your previous winnings. This game is one where five cards are dealt face down, the left-most one is dealt by the game and you try to pick a card from the remaining four which is higher than the one dealt. If you select the right one, your is money doubled.
Play these entertaining no download games from Win A Day Casino to become a big winner!