Player testimonials
Out of all the casinos I have played at, having played for many, many years now, Winaday is by far the best. And has the BEST of everything! The games are top notch and have great payouts.
The support agents have an exceptional talent, always cheerful and genuine, by far the top representatives in the online business. They are the best when it comes to reminding players of Promotional and Bonus Specials!
I don't know why I sometimes play at other online casinos as they don't come close to yours. Winaday casino makes it so easy and simple if you ever take advantage of a promotion or bonus. Everything you want in an online casino is at Winaday casino!
Winaday makes a long commute to work fly by! Some of the best games are available to play on my phone.
A Full Review of Our Slot Games Part One
Here at Win A Day Casino, we offer a wonderful wide selection of real money video slot games for our players to enjoy. Our many happy players demand a wide selection of game for their amusement, and we are glad to provide a varied casino experience. Now, let's take the time to review in depth some of our higher end slot machine games.
Alice In Wonderland
This is our newest slot machine available and it is very magical. Featuring state-of-the-art 30 payline technology, Alice In Wonderland is truly a delight for players. Based upon the beloved 1865 classic novel by Lewis Carroll, this game features iconic imagery. Here you will find fully animated slides highlighting such characters as: The Mad Hatter who tosses his hat around to mix things up in your favor, ticking clocks, dancing flowers, marching card soldiers, the Red Queen of hearts, and the frolicking White Rabbit. It's as if you are transported to another world. In the sound department, "Alice In Wonderland" features a lovely medieval fantasy soundtrack to enjoy while playing, and sound effects to enhance play. We highly recommend this game for fans of fantasy, movies, and books.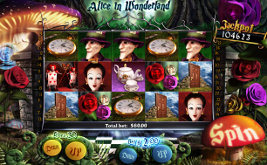 Birthday Bash
Birthday Bash is one of our lighthearted and engaging real money slot games. It features a fun techno inspired soundtrack with very nice sound effects. "Birthday Bash" has five spinning reels, which contain fun images such as clinking champagne glasses that play the sound of bubbles when matched, chocolate bon bons, happy birthday cards, roses, multi-colored balloons, party hats, fireworks, birthday cakes, noisemakers, party favors, and wildcards which increase your chances to win. This game features the unique ability to stop individual reels to increase your odds of matching images along a payline. This game contains 15 paylines and is highly addictive and action packed.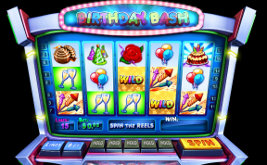 Busted!
Busted! is one of our action thriller slot games. The theme of this game is something all adults remember from their youth: cops versus robbers! Yes, this classic schoolyard game has now been update to a full-fledged casino game, and it is just as fun as you recall. This game has a very unique soundtrack that sounds like an action movie quality high-speed chase is under way. This game has many opportunities for free spins, which is a players delight, as you know. Busted features a constantly growing jackpot that increases as more people play, and chances are that you just may get away with this loot! "Busted!" has 17 paylines, which is 17 chances to win real money every spin. It has five reels which feature images such as: diamond rings, Picasso paintings, stacks of cash, expensive jewelry, antique vases, and bank vaults. This is one of most fun and engrossing slot games and is a delight for action movie buffs as well as crime drama enthusiasts.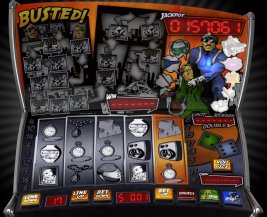 This is just scratching the surface of some of the many games we offer here at Win A Day Casino. Join us next time for part two of our full review. Come play today and find out which game tickles your fancy. You never know, you could be our next big winner!