Player testimonials
"I started at Win A Day's sister site, Slotland, over 10 years ago, and I did not think that I would find an online casino that I liked better...that was until I played a couple of times at Win A Day! Playing here is so much fun, I have not been to my favorite land casino in over a year! That, is a loyal player!"
"I truly love this site and the best part is NO DOWNLOAD!! That and the fact that you have the most unique games is what causes me to continue to play. In addition to really enjoying the games, you have wonderful support staff. It's a lot of fun, good job!"
"Win A Day is the place to play, come one come all. A place of fun and games galore! Great customer service, deposit bonuses and surprises. It's is the best casino and definitely worth your time. Thanks Win A Day for all you do, I will always support you."
"I have played at many online casinos and I would just like to say that Win A Day is the BEST casino that I have played at. Their games are all one of a kind you won't find them anywhere else. The customer service support is fantastic. If you haven't played at Win A Day I suggest you do."
New Trends In Slot Games: Alice In Wonderland
Posted on November 6, 2013
For a while now, slot games have been following different TV shows and movies to help entice customers. When you go into a casino -- either in Vegas or online -- you will notice that slot machines look familiar, even if you haven't played them before. Much of this has to do with the fact that they choose topics that you already know and turn them into a slot machine.
One of the most popular slot games around right now is Alice in Wonderland. Each and every slot machine out there has a slightly different interpretation of the classic story. Some follow the 2010 movie premise with Jonny Depp while others stay closer to the original story.
When players go to Win A Day Casino, there is an Alice in Wonderland game that has cartoon animations of all of the classic characters -- including Alice herself and the White Rabbit. While the story may not have a happy ending for all, it does provide a significant amount of entertainment and that's because of the graphics as well as the sounds.
There are many advantages to playing online in an instant play casino like Win A Day. One of the most obvious is the ability to win real money. Just create an account, choose a slot game to play and begin spinning the reel. It is very similar to what you would encounter in any real casino anywhere in the world. It's an instant online play; however, because you sit down at your computer and there it is. It makes it easy to play anytime, anywhere, from the comfort of your own home.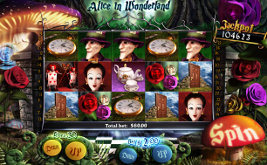 If you love the story of Alice in Wonderland and you are always eager to see new interpretations of the story, it only makes sense for you to check it out in a slot format. This is the new trend throughout casinos online and in a physical location. Every casino has their own interpretation, which can ensure you have fun with the classic story while taking advantage of what makes the story unique within the casino that you are playing in.
Learning how to play online slot games is easy. Whether you have played games online in the past or not, you will find that it is much easier than you might imagine. Within minutes of sitting down on the website, you can be spinning the reels and winning real money. The first decision you have to make is how you will fund your account -- you can use a credit card or your checking account.
Once the account is setup, you are ready to choose your game. You will see a lot of familiar story lines and this is done on purpose. Look for Alice in Wonderland to see how the story is interpreted across a few reels on a slot machine and let the Mad Hatter bring you some fortunes as you try your luck to win big really big money each time you spin!