Player testimonials
"The games at Win A Day are so different to other casinos, they have so many unique features that really make them stand out! I will return to play here over and over again. When you combine the wonderful games, superior customer support and terrific daily promotions it's a no brainer. Win A Day is a winner for me!"
Out of all the casinos I have played at, having played for many, many years now, Winaday is by far the best. And has the BEST of everything! The games are top notch and have great payouts.
The support agents have an exceptional talent, always cheerful and genuine, by far the top representatives in the online business. They are the best when it comes to reminding players of Promotional and Bonus Specials!
A fair, honest, and professional business. There are many players out there searching for the peace of mind and integrity that accompanies a reputable site such as Winaday. I want to thank all employees, top to bottom, for the stellar service provided."
How Slot Games Work (Part 4)
Welcome back for the fourth part of Win A Day Casino's in-depth look at slot games. Today we will look at the history of the video poker experience.
History
Video poker slot games first became commercially viable when it became cheap enough to combine a television style screen with a number crunching computer chip. The earliest models appeared at the same time as the first personal computers were produced, in the mid-1970s, although they were primitive by today's standards.
Video poker slot games became more firmly established when Draw Poker was introduced in 1979. Throughout the 1980s, video poker became increasingly popular in casinos, as people found the devices less intimidating than playing table games. Today video poker enjoys a prominent place on the gaming floors of many casinos. The game is especially popular with Las Vegas locals, who tend to go to local casinos off the Las Vegas Strip. These local casino games often offer lower denomination machines or better odds, although this was more common in the 1990s as casinos across the country have recently been cutting their pay tables and/or only offering 25-cent machines or higher.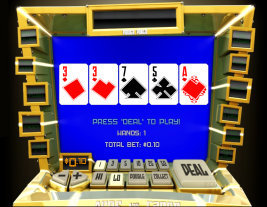 The Game
After inserting money into these video poker slot games, play begins by placing a bet of one or more credits and pressing the "deal" button. The player is then given cards and has the opportunity to discard one or more of them in exchange for new ones drawn from the same virtual deck. After the draw, the machine pays out if the hand or hands played match one of the winning combinations, which are posted in the pay table.
Payouts
Pay tables divide the payouts for hands and are based on how rare they are, the game variation, and the decision of the game operator. A typical pay table starts with a minimum hand of a pair of jacks, which pays even money. All the other hand combinations in video poker are the same as in table poker, including such hands as two pair, three of a kind, straight which is a sequence of 5 cards of different suits, flush which is any 5 cards of the same suit, full house which is a pair and a three of a kind, four of a kind which is four cards of the same value, straight flush, which is 5 consecutive cards of the same suit, and royal flush, which is a Ten, a Jack, a Queen, a King and an Ace of the same suit.
Varieties
There are many variations of video poker slot games. They include Deuces Wild, where a two serves as a wild card, pay schedule modification, where four aces with a five or smaller kicker pays an enhanced amount, and multi-play poker, where the player starts with a base hand, and each additional played hand draws from a different set of cards with the base hand.
Featured Video:
Looking for Online Slot Games? Visit WinADayCasino.eu
To play online slot games, sign up and log on to WinADayCasino.eu