Player testimonials
"I have cashed out at other places but you made the process unbeatable, you kept me informed throughout and all this at no cost to me. My new saying about your casino is "Why play with the rest, when you can play at the best!" Win A Day/Slotland casinos an experience you will never forget."
I have been playing Winaday for a long time and you are my favorite. I have basically stopped playing most of my other casinos and WinADay is the ONE.
I don't know why I sometimes play at other online casinos as they don't come close to yours. Winaday casino makes it so easy and simple if you ever take advantage of a promotion or bonus. Everything you want in an online casino is at Winaday casino!
The support agents have an exceptional talent, always cheerful and genuine, by far the top representatives in the online business. They are the best when it comes to reminding players of Promotional and Bonus Specials!
How Slot Games Work (Part 7)
Welcome back for the seventh part of Win A Day Casino's in-depth look at slot games. There are many myths and misconceptions when it comes to how video slots work. In fact we would go as far as to say they are in fact the most misunderstood of all of the casino games. Here we present you with the facts and dispel the fiction. Please note that the odds calculations below are just examples and in no way relate to a specific brand or machine. They are listed purely to illustrate the idea of how the odds are calculated. Today we offer an insider's in-depth look at how traditional video slot machine games work.
The first point to note is that all slot games including video slots are a pure game of chance. There is nothing that you as a player can do to alter the outcome. The games are run by computer programs, which ensure that the odds are fair for casinos and players alike as per state laws. Of course over the short term you may win or lose.
Combination Outcomes
When you press the spin button the machine shows all the reels spinning, in reality the outcome has already been decided. The stop position and resulting symbols for each reel is randomly decided by the random number generator independently from the others. Once the reels stop spinning you can see the result, either a win or a loss.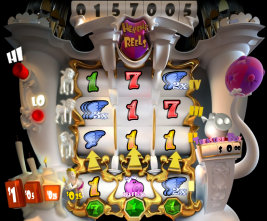 Odds
Video slot games can have anywhere from 20 to 100 symbols on each virtual reel. Of course the higher paying symbols will appear less than the lower paying ones. For example if we have a game with 40 stops per reel and the jackpot symbol occurs only once per reel then the odds of hitting the highest prize is 1 in 102,400,000. As with most video slots you can play more than one line at a time so the example above would be 1 in 5,120,000 if you were playing 20 lines at once. Through extensive mathematical testing the slot machine manufacturers can see how their reel placement will control the overall pay out percentage of slot games.
3 Or 5 Reels?
Three reel and five reel slot games are quite different in several aspects. The most obvious is the difference in reel numbers and the spinning reel versus video screen format. Other major features that are different include the number of lines and the reel weighting.
It is a very common misconception that spinning three reel slots have much better odds than video slots. This would be true if the reels were not weighted. In reality the odds are very close to the same when you compare a wide selection of games. In the end it really comes down to what entertains you the most. In our opinion video slot machines win this hands down.