Player testimonials
The support agents have an exceptional talent, always cheerful and genuine, by far the top representatives in the online business. They are the best when it comes to reminding players of Promotional and Bonus Specials!
Winaday makes a long commute to work fly by! Some of the best games are available to play on my phone.
"I have cashed out at other places but you made the process unbeatable, you kept me informed throughout and all this at no cost to me. My new saying about your casino is "Why play with the rest, when you can play at the best!" Win A Day/Slotland casinos an experience you will never forget."
A fair, honest, and professional business. There are many players out there searching for the peace of mind and integrity that accompanies a reputable site such as Winaday. I want to thank all employees, top to bottom, for the stellar service provided."
Slot Games Tips (Part 5)
If you have ever been to a casino or online casino, then you probably know what slot games are. Slots are present in pretty much every casino out there, whether online or off. Slot machines are even found in places other than casinos, such as airports, hotels, and even bars in some areas. The popularity of slots is partially due to the ease of use - anyone can play slots and have a chance of winning, while it takes knowledge and skill to play most other casino games, especially poker.
Winning Combinations
Slot games are known for their large but rare payouts. People are always drawn to the possibility of huge payouts, so it's no surprise that virtually every casino has tens and even hundreds of slot machines. Generally slot machines have a number of different winning combinations, each with their own payout (some very high, some just over what you bet). Slot machines and online slots are pretty much identical, so if you've done one or the other you will be fine.
Basic Play
If you have never used slot games or don't quite know how they work, it's really quite simple. First, a coin is inserted (or a button pushed if you're playing online), and a lever is pulled/button is pushed. Then the machine will start spinning, and when it comes to a stop you will see if you have a winning combination or not. These combinations are made up of little symbols, and usually there will be a list of winning combinations printed onto the machine, or displayed somewhere near it. The symbols themselves are not important, but keep in mind that specific combinations (the rare ones) can pay out quite a bit.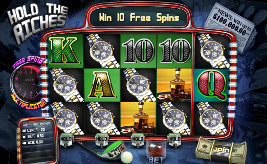 Variations Of Type
There are different variations of slot games, but the concept is the same in all of them. The only really different variation is progressive slot machine games. Basically with progressive slots each spin adds to a jackpot total. The jackpot keeps getting bigger and bigger until someone finally wins it (it can take minutes or months). Once it is won, the jackpot goes back down to a relatively low number, usually at least $100. Obviously progressive slots are harder to win at than normal slots, so it's more like playing the lottery than playing a casino game.
The Progressive Wins
Some slot machines however have both progressive jackpots and normal winning combinations. These are generally the best choice to play on, since they offer both frequent low payouts and occasional huge payouts. They are also the most enjoyable for most people, as there's a chance to win big and lots of excitement. However, the overall house edge or advantage on these machines is usually higher, as they have to compensate for the potential loss of a jackpot. Slot machines are fun, but most regular gamblers tend to avoid them simply because they are 100% luck. These slot games offer a welcome escape for players around the world for fun and profit.