Player testimonials
"I started at Win A Day's sister site, Slotland, over 10 years ago, and I did not think that I would find an online casino that I liked better...that was until I played a couple of times at Win A Day! Playing here is so much fun, I have not been to my favorite land casino in over a year! That, is a loyal player!"
"I have cashed out at other places but you made the process unbeatable, you kept me informed throughout and all this at no cost to me. My new saying about your casino is "Why play with the rest, when you can play at the best!" Win A Day/Slotland casinos an experience you will never forget."
"The games at Win A Day are so different to other casinos, they have so many unique features that really make them stand out! I will return to play here over and over again. When you combine the wonderful games, superior customer support and terrific daily promotions it's a no brainer. Win A Day is a winner for me!"
"I truly love this site and the best part is NO DOWNLOAD!! That and the fact that you have the most unique games is what causes me to continue to play. In addition to really enjoying the games, you have wonderful support staff. It's a lot of fun, good job!"
Slot Games Tips (Part 6)
Posted on February 13, 2014
Despite their simplicity, slot games are one of the preferred choices in a casino. Gamers find slot machine games enticing for a number of reasons. For one, they are probably the simplest game in the casino to understand. Titles such as craps, roulette, and poker have many betting complications that certain traditional gamblers do not want to learn. Slot machines, on the other hand, do not require much knowledge at all. Another reason slot machines are so favored is the high payouts that they offer. Gamers can spend as little as a penny for every spin, and this wager is considerably lower than the wager required at other casino games. The payouts associated with slot machines are also very high. In other words, for little risk there is usually a higher reward.
Understanding Odds
For the most part, slot games odds are heavily correlated with the amount it costs to play. In most cases, the higher the initial wager requirement, the greater the odds may be. The five-cent machines generally do not pay as much as the dollar machines, which makes perfect sense since the dollar machines are more profitable.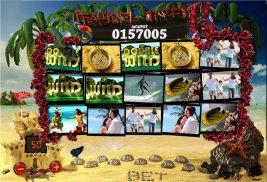 The Internet Sensation
It should be noted that the payouts for slot machines at online casinos are considerably higher than land casinos. The idea revolves around the notion that the Internet gambling industry is attempting to outperform the land casinos. By offering higher payouts combined with the opportunity to reach out to millions of gamblers, internet gambling has grown to become an industry leader. As far as internet slot machine odds are concerned, they are basically stated as a percentage at which a payout is offered. To keep gamblers playing, the slot machines have to offer competitive payout rates.
The Numbers
Slot games are based off of the construction of what is known as a virtual reel. The virtual reel has a number of components that can determine the final landing on the actual reel. In terms of actual payouts, the amount of return provided can vary at each particular casino. Probably one of the bet approaches to take, since all slot machines are different, is to look at the game from a cost perspective. This perspective considers the number of spins one makes in an hour times the actual house edge, or the advantage that the internet casino has over a gambler. For example, it is estimated that a typical gambler can make 100 spins of the slot machine in any hour. Playing on a ten-cent machine putting in the maximum amount of coins means that it would cost fifty cents to play each spin. With 100 spins in an hour, the total cost would amount to $50 per hour. As can be seen, slot games are both simple and quick ways for gambler to satisfy their excitement level. Unfortunately, the various odds and payouts make it difficult to calculate the exact percentages associated with the game. Despite this uncertainty, gamblers, both at land and internet casinos, continue to view slot machines as an attractive option.