Player testimonials
"I started at Win A Day's sister site, Slotland, over 10 years ago, and I did not think that I would find an online casino that I liked better...that was until I played a couple of times at Win A Day! Playing here is so much fun, I have not been to my favorite land casino in over a year! That, is a loyal player!"
"Straight up guys, you nailed it, this casino is so new and different and so much fun. The odds are so fair, bonuses and games are too great not too invest in them. I've been gambling online for a long time and played in many casinos but have never had this much fun anywhere else. I highly recommend it!"
"Win A Day is the place to play, come one come all. A place of fun and games galore! Great customer service, deposit bonuses and surprises. It's is the best casino and definitely worth your time. Thanks Win A Day for all you do, I will always support you."
"I truly love this site and the best part is NO DOWNLOAD!! That and the fact that you have the most unique games is what causes me to continue to play. In addition to really enjoying the games, you have wonderful support staff. It's a lot of fun, good job!"
Slot Games Player Tips (Part 6)
Posted on March 13, 2014
Playing slot games online is the newest way for gamblers to win really big. In the past, players would have to travel long distances to play, but now they can gamble and enjoy casino games from the comfort of home!
Online Versus Land Casinos
Slot players love to spend time at their favorite slot games. Each player will have their own things they are looking for when it comes to the slot machine they choose to play. Slot players of today have even more choices available to them that ever before. Now they can even choose between land based slots and online slots. There are many reasons why so many players are finding that they prefer the online slot games to the land based ones. Here are some of the reasons why so many prefer to enjoy the online slots:
Online slot games can be found at most of the online casinos and players will be able to search through the vast selection of them in a matter of mere minutes. When players go to the land based casinos they will have to spend much more time walking around looking for the slot machine they want to play. If the slot machine is taken, then they will have to wait for it to become available. Online players can play the slot game they want right away with no waiting involved.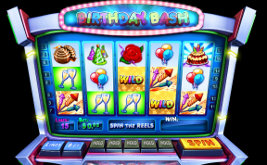 While land based slot players need to take what the casino they decided to play at has to offer, online casino players can look around on their computer until they find an online casino with the real money slots they want. Also, a land-based casino has much higher overhead than an online casino, and this can be seen in the pay outs. The online slot games tend to be more generous than the land based ones.
The Online Edge
Land based slot games players don't have many options available to them when it comes to the environment they play in. They will be at the mercy of the land based casinos hustle and bustle. They can't turn down the volume or make loud people go away. However, online players are in total control of their gaming environment. They get to play in the comfort of their own home, and this means they can enjoy playing slots however they want.
Online slot games players also have the convenience of jumping online and playing some slot games whenever they feel like it, and this makes it much easier for them to fit their slot games into their schedule, and their budget. Land based slot players need to take time out of their schedule and make travel arrangements to go to the casino. There are just some of the reasons why so many players are finding that online slots work better for them.