Player testimonials
"Win A Day is the place to play, come one come all. A place of fun and games galore! Great customer service, deposit bonuses and surprises. It's is the best casino and definitely worth your time. Thanks Win A Day for all you do, I will always support you."
"I truly love this site and the best part is NO DOWNLOAD!! That and the fact that you have the most unique games is what causes me to continue to play. In addition to really enjoying the games, you have wonderful support staff. It's a lot of fun, good job!"
"Straight up guys, you nailed it, this casino is so new and different and so much fun. The odds are so fair, bonuses and games are too great not too invest in them. I've been gambling online for a long time and played in many casinos but have never had this much fun anywhere else. I highly recommend it!"
"I started at Win A Day's sister site, Slotland, over 10 years ago, and I did not think that I would find an online casino that I liked better...that was until I played a couple of times at Win A Day! Playing here is so much fun, I have not been to my favorite land casino in over a year! That, is a loyal player!"
Standard Slot Games Strategy
Posted on April 25, 2014
Playing slot games online doesn't require years of practice. Many players quickly pick up on a few simple strategies that will greatly enhance their skill and enjoyment of slot machines. Slot machines games are designed so that new players can learn while experienced players can really develop their gambling ability. Our online casino has a fun and fantastic variety of slot machine games for players of all ages to experience. We have a few tips to help get you started playing in a smarter, more efficient way.
A Variety of Games to Enjoy
We have many different real money slot games for players, such as progressive slots, classic style slots, video poker slots, multi pay line slots, and penny slots. Many people believe that playing single pay line slots offer an advantage over multi payline slots, but this is a mistake. The only reason to play lower end slots is to gain a basic understanding of how the game is played. We have games that offer over fifty paylines for good reason: with higher amounts of pay lines comes an increased amount of strategy and many more chances to win real cash prizes. With every pay line,slot machine games offer a chance at a winning combination.Having over fifty opportunities to win per spin greatly increases the player's odds of lining up any number of icons that will result in bonus credits and more.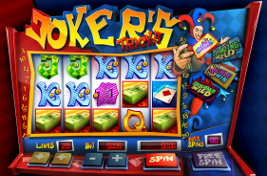 Use the Progressive Games to Your Advantage
For many players, slot games are alluring because they offer the chance to win large jackpot prizes. Jackpot prizes are more often than not the result of progressive pooling. Pooling refers to a large collection of machines being linked together to offer players an ever-growing jackpot prize. These jackpots will grow with every credit spent on every one of the linked machines. You will see the jackpot amount listed above each progressive slot machine game. The way to qualify to win these large jackpot prizes is to bet the maximum bet amount every time you spin the reels on a progressive machine. These amounts can reach tens of thousands of dollars, and winning can change a person's life. This is the reason that slot games remain incredibly popular at our casino and every casino around the world.
Enjoy Incredible Bonuses
When playing slot games online for real money, you should look for a casino that offers exclusive bonuses and special offers for loyal customers. Here at Win A Day Online Casino, new members are offered a five hundred dollar bonus to welcome them upon their first five qualifying credit deposits. This is a great way to really get the ball rolling when getting started with our fantastic casino experience. Together with this, we also offer advanced players VIP services, special discounts, and unique tournaments. Sign up today to get started and try your hand at our great slot games.