Player testimonials
Winaday makes a long commute to work fly by! Some of the best games are available to play on my phone.
The support agents have an exceptional talent, always cheerful and genuine, by far the top representatives in the online business. They are the best when it comes to reminding players of Promotional and Bonus Specials!
A fair, honest, and professional business. There are many players out there searching for the peace of mind and integrity that accompanies a reputable site such as Winaday. I want to thank all employees, top to bottom, for the stellar service provided."
Out of all the casinos I have played at, having played for many, many years now, Winaday is by far the best. And has the BEST of everything! The games are top notch and have great payouts.
Myths About Online Slot Games Debunked
Online real money slot games have been around for more than a decade but have only recently started to gain popularity. There are many myths surrounding these games. It is important to understand the truth behind these myths.
1. All These Sites are Staged to Fraud the Player
This is a common misconception that people have and it stems from the fact that people do not understand the way it works. When you play slots in a physical casino, you are able to pull a lever and see the rolls spin. While you may see the spinning action with online real money slot games, it works differently. Instead of using force it works with a random number generator.
2. The Sites Themselves are Scams
No one wants to be scammed and that is a big problem many people worry about with these online sites. Truth of the matter though is that there are some sites that are not legit, there are many that are. This is why it is important to do your homework on a site before signing up with them. It is important though in all aspects of your life to make sure that you are dealing with a legitimate company.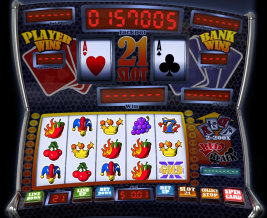 3. No One Really Wins With the Slots
Does every person that plays slot games in an actual casino win? Obviously not. You will find that the odds are just the same when dealing with online slots. The only difference though is that there are more ways to win. You will find that most online slots have many pay lines to work with. For instance some of the instant play casino games can have as many as 50 lines that you can win on. This can give you more chances to win, which means that your chances of winning are greater with the online slots. However, when you bet on more pay lines this does open you up to losing a greater amount.
4. It Costs a Ton of Money
Just as when you play in a regular casino, online slot games have many different options. You can play with as little as a penny and up when you are online. It will depend on the site you are playing on though as to what they will allow. You should also know that there are some sites that will let you play for free instead of just for real money if you have an account. This can give you the opportunity to get a feel for the game before you start putting actual money on the slot games.
When you take the time to look at what all these sites can offer you will find that they have a more immersive service than what you will receive from a physical casino. Also, by being able to play no matter where you are helps to make it easier to enjoy this experience.