Player testimonials
"Win A Day is the place to play, come one come all. A place of fun and games galore! Great customer service, deposit bonuses and surprises. It's is the best casino and definitely worth your time. Thanks Win A Day for all you do, I will always support you."
"I have played at many online casinos and I would just like to say that Win A Day is the BEST casino that I have played at. Their games are all one of a kind you won't find them anywhere else. The customer service support is fantastic. If you haven't played at Win A Day I suggest you do."
"The games at Win A Day are so different to other casinos, they have so many unique features that really make them stand out! I will return to play here over and over again. When you combine the wonderful games, superior customer support and terrific daily promotions it's a no brainer. Win A Day is a winner for me!"
"Win A Day is a unique, one of a kind casino and I can say from my own experience, you guys are personable and thoughtful to your players. Thanks to your whole team, you guys and gals make a great team together and a great online gaming experience come true! Win A Day is an honest online gaming site that I truly love."
Tips for Winning at Online Slot Games
Posted on May 19, 2014
If you are interested in playing online slot games for real money, then one of the biggest things to know is how you can win. While the truth is that the numbers are random, there are a few tips that can help you improve your odds of winning. This can help to give you a better experience when you are playing slots.
1. Stick with the Same Game
A huge mistake that people make when they are playing online slot games for real money is that they tend to bounce around from one game to another. While this may seem like it will improve your odds, the truth is that it will not. You want to stay on the same machine as it is more likely to give you the matches you want than on another game. While this does take some self control to not hop over to another game it is definitely worth it.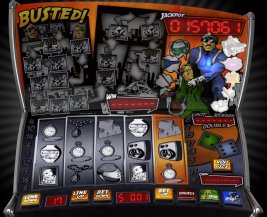 2. Set Clear Limits
Another important strategy to winning is to set clear limits for yourself. While you may know just how much money you want to spend, many people do not put a cap on the amount they are willing to win. While this may seem counterintuitive, a big issue for people is to stop playing the online slot games once they are on a roll. If you continue to raise the stakes and keep betting, your lucky streak will wear off and you may walk away with nothing. This is why it is best to have clear boundaries when playing slots.
3. Know the Rules
You should also make sure that you understand the rules for the slot machine before you start playing. You want to understand how a win is determined so you can make the right bets for what you want. For instance, not all online slot games will count a vertical match as a win. This is why it is important to know exactly how the game works rather than assuming or trying to learn on the fly.
4. Place Bets on More Pay Lines
There are games that have 50 or more pay lines which essentially means that there are 50 different ways that you can win while playing the game. This is a nice way to increase your odds by giving yourself the chance to win big on one hand. Remember though that the more pay lines that you select the greater your chances are for loss.
With this you should also know that your winnings are proportionate to the amount of money that you are willing to wager on the online slot games. While a penny slot may seem like something that is safe, you might find that it does not pay out nearly as much as a dollar slot will. This is why you want to choose your game and wager carefully when playing the games for real money.