Player testimonials
"The games at Win A Day are so different to other casinos, they have so many unique features that really make them stand out! I will return to play here over and over again. When you combine the wonderful games, superior customer support and terrific daily promotions it's a no brainer. Win A Day is a winner for me!"
I don't know why I sometimes play at other online casinos as they don't come close to yours. Winaday casino makes it so easy and simple if you ever take advantage of a promotion or bonus. Everything you want in an online casino is at Winaday casino!
A fair, honest, and professional business. There are many players out there searching for the peace of mind and integrity that accompanies a reputable site such as Winaday. I want to thank all employees, top to bottom, for the stellar service provided."
I have been playing Winaday for a long time and you are my favorite. I have basically stopped playing most of my other casinos and WinADay is the ONE.
History of Slot Games
Slot games originated in 1891, when Sittman and Pitt of Brooklyn, NY, created a gambling machine that was the ancestor of the current slot machine games. This game was based on the card game of poker, using 50 playing card faces. The popular gambling machine was installed in bars around the New York City. It worked in a similar fashion to today's slot machines, coin operated with the card faces on rotating drums. Instead of paying out cash to the winner, games will reward winners with a prize such as a free beer, cigar or other beverage. Wins were predicated by poker hands, each type of hand earning a different prize.
Today's slot games were invented between 1887 and 1895 by Charles Fey from San Francisco, CA. The date of the invention is not clear, however it was his idea to develop a simple automatic device for the machine. Fey decided that using poker as the basic game for the machine was not feasible for the automatic version because there were too many variables and winning combinations. Instead, he created three rotating wheels with five possible symbols including diamonds, horseshoes, spades, hearts and the Liberty Bell. By reducing the number of variables and the number of spinning wheels from five to three, Fey created a simpler game that worked for the automatic slot machine. The top payout was given for getting three Liberty Bells in a row, which also gave the slot games their name. The game was powered by nickels and the payoff was ten nickels. The Liberty Bell game started the craze for slot machine games which has continued ever since.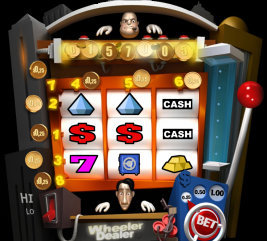 Current slot games are played by inserting cash, usually coins into the machines which activates them. Some games can now be played using paper tickets with a barcode, or electronically with touch screens. These games do not take much skill on the part of the player, instead it is a game of chance. Besides the fact that the player can win money from the slot machine games, they are fun to play due to the bright colors and bells that make noise. Multi-line slots have become very popular in the last 20 years. They pay on more than one line of symbols at a time, and can have three or more paylines. Electronic slots have graphic themes usually based on popular television shows, animated cartoons or movies. These have become so popular that you do not have to leave your home to play them. You can go online and play the slots for real money on casino websites such as Win A Day Casino. On a website you just pay for a specific amount of credit, then use the credit to play the game.
Win A Day Casino has numerous varieties of electronic slots with varying payouts for play. They also have a selection of penny games. If you are not sure how to play, the site has excellent tutorials.