Player testimonials
"Win A Day is the place to play, come one come all. A place of fun and games galore! Great customer service, deposit bonuses and surprises. It's is the best casino and definitely worth your time. Thanks Win A Day for all you do, I will always support you."
"I have played at many online casinos and I would just like to say that Win A Day is the BEST casino that I have played at. Their games are all one of a kind you won't find them anywhere else. The customer service support is fantastic. If you haven't played at Win A Day I suggest you do."
"I enjoy all of your games, it is difficult to to pick ONE favorite! I get bored quickly with other casinos but at Win A Day I just want to keep playing - its what a casino should be! As if that's not enough, the frequent bonuses, contests, tournaments, and other promotions keep me coming back to be a part of all the FUN! Win A Day, thank you!"
"Win A Day is a unique, one of a kind casino and I can say from my own experience, you guys are personable and thoughtful to your players. Thanks to your whole team, you guys and gals make a great team together and a great online gaming experience come true! Win A Day is an honest online gaming site that I truly love."
Why People Play Slot Games
Posted on June 23, 2014
For over a century, people have played slot games of one sort or another. These are designed to offer entertainment as well as a way to increase one's earnings. It is a form of gambling, however, which means there is no guaranteed outcome. Some people win and some people lose. This is why it is always suggested that a person only spends the money that they are willing to lose. When you look at gambling, you may want to understand the fascination with slots.
There are a lot of rules with gambling and specifically with the different slot machine games that are on the market. There are rules about how one inspects the machines, cleans them, and even fixes them.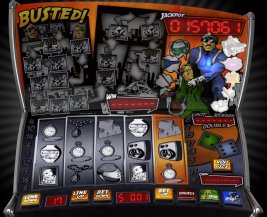 However, when it comes to slot games online, there are a few less rules. There may still be limits in terms of how much a person is able to wager per spin, but since the game is actually a computer program with the chances built into the code, it doesn't involve as much training or as many regulations. This has led to online casinos becoming more popular.
Learning how to play slots is the easiest of all of the options at a casino. You don't have to figure out when to hit or when to stand. You don't have to learn the odds to determine where you should place a bet. The only thing that you have to do with slots is decide how much money you want to wager on the lines and then hit the Spin button. Fate then spins the reels and if there are matches, you are paid.
The ease of playing slot games contributes to the popularity. There are also a lot of sounds and lights on slots that adds to the entertainment factor. You will be able to find an array of themes to keep you entertained for as long as you play, too. Some of the themes are modeled after TV shows and movies while others are on different eras in time, such as the Wild West or medieval times.
If you play a slot game, there is always the chance to hit a bonus or a wild reel. This can increase the amount that you earn while playing the game - thus adding more money into your online account that is set up for you.
With online casinos, you also have the ability to play 24 hours a day, 7 days a week. You can gamble from home or anywhere else because it is done electronically over the Internet. This means you don't have to visit a physical casino in order to try your luck and gamble for real money. It is all done with an online account where you can simply transfer money over from your bank account - and this is why people are playing slots with more frequency.