Player testimonials
"Win A Day is a unique, one of a kind casino and I can say from my own experience, you guys are personable and thoughtful to your players. Thanks to your whole team, you guys and gals make a great team together and a great online gaming experience come true! Win A Day is an honest online gaming site that I truly love."
"The games at Win A Day are so different to other casinos, they have so many unique features that really make them stand out! I will return to play here over and over again. When you combine the wonderful games, superior customer support and terrific daily promotions it's a no brainer. Win A Day is a winner for me!"
"Straight up guys, you nailed it, this casino is so new and different and so much fun. The odds are so fair, bonuses and games are too great not too invest in them. I've been gambling online for a long time and played in many casinos but have never had this much fun anywhere else. I highly recommend it!"
"I have cashed out at other places but you made the process unbeatable, you kept me informed throughout and all this at no cost to me. My new saying about your casino is "Why play with the rest, when you can play at the best!" Win A Day/Slotland casinos an experience you will never forget."
Tips for Improving Your Odds of Winning at Pay Per Play Slot Games
Posted on July 29, 2014
Online slot games are not like any other game in a casino line up. The chances of winning are completely random and can't be predicted using normal gambling estimations. While poker, black jack, roulette and other games of chance have a slight risk of predictability, slots are not designed to be so easy to manipulate. With that being said, there are a few tips that can help improve your odds, if only in small increments.
Always Bet on the Maximum Number of Paylines
When playing slot machine games, both online and in the casino, your best option is to bet on the maximum number of paylines allowed. The amount you bet does not influence or trigger the machine to increase your chances. Betting on the maximum number of paylines will allow you more chances to hit a bonus or other type of payout. While playing a bet on every payline each time, your tokens will be used up faster, but your opportunities to win increase several times over. It's possible to win at least one or two paylines with each spin you take.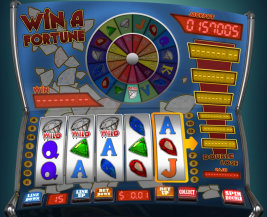 Look for Machines that Offer High Bonuses or Bonus Rounds
If you want to increase your odds of winning, look for slot games that offer high bonuses or bonus rounds that are triggered with certain combinations. The bonus multiplier normally goes into affect when a person plays the maximum bet allowed. The more paylines that are played, the higher the bonus. The number of paylines also increase the number of bonus rounds that are possible with each spin. Machines with 5 spinning wheels offer the maximum number of possible paylines and bonus rounds. While these machines can be expensive to play if you plan on maxing out your bet each time, the bonuses they pay are well worth the extra risk.
Don't Expect a Win After a Certain Number of Spins
Slot games cannot be set to pay out after a certain number of spins. Even progressive machines that allow the jackpot to continually increase until it is hit, will not pay after a specific number of spins. They cannot be tightened or loosened to determine how long a spin lasts or guarantee a specific payout. Online machines are created in the same way. Their programming does not allow for alterations to be made to the speed of the spin or any other factor of the game.
Slot games are games of chance. You have just as much chance of winning a small amount as you do of winning a large amount. The problem is your chances of losing are greater than any chance of walking away with a jackpot. Always to remember to play for the fun of the game. When you start to feel as if you have to win before you leave the computer, it's time to start taking breaks and limiting the time you spend playing.