Player testimonials
"I enjoy all of your games, it is difficult to to pick ONE favorite! I get bored quickly with other casinos but at Win A Day I just want to keep playing - its what a casino should be! As if that's not enough, the frequent bonuses, contests, tournaments, and other promotions keep me coming back to be a part of all the FUN! Win A Day, thank you!"
"Straight up guys, you nailed it, this casino is so new and different and so much fun. The odds are so fair, bonuses and games are too great not too invest in them. I've been gambling online for a long time and played in many casinos but have never had this much fun anywhere else. I highly recommend it!"
"Win A Day is the place to play, come one come all. A place of fun and games galore! Great customer service, deposit bonuses and surprises. It's is the best casino and definitely worth your time. Thanks Win A Day for all you do, I will always support you."
"I started at Win A Day's sister site, Slotland, over 10 years ago, and I did not think that I would find an online casino that I liked better...that was until I played a couple of times at Win A Day! Playing here is so much fun, I have not been to my favorite land casino in over a year! That, is a loyal player!"
What Makes Slot Games So Popular to Players?
Posted on August 25, 2014
Of all of the games in a casino, slot games are the most popular online and inside live casinos. The variety of games ranges from penny slots to high roller slots, and everything in between. With all of the casino games available to play, slot machines are the favorites. Since the slots give the house the highest advantage, it doesn't seem logical that they would still remain so well liked.
One of the reasons that slot games are popular is that you don't need a lot of special skills to play. They are easy to play, and if you have a nickel, you can get in on the game. You can play by yourself, so you don't have to take turns, and play runs extremely quickly. Since you can play by yourself, newbies to the game can go as slow as they want and not get intimidated by experienced players.
Slots also promote the idea of good luck, and give a player the feeling that they are in control of their fortune. Players often choose a machine that feels lucky to them, and play becomes an emotional high. The concept of betting a very small amount such as a couple of dollars to win a large jackpot is a very motivational incentive for the majority of slots aficionados.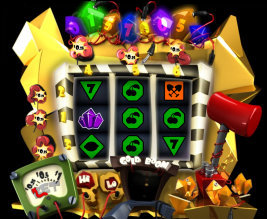 Slot machine games also make a great filler in-between other games such as blackjack and poker. Travelers take advantage of slot machines in airports while waiting for planes, and on cruise ships waiting for shows to begin. Online players can play while waiting at the doctor's office or in line at the post office. The simplicity of the game makes it the perfect activity while waiting.
Slots do not take a great deal of attention, therefore if you are watching television or cooking dinner, you can play in short spurts. There is no real strategy to the game allowing the player to concentrate on other activities. Slots are also user-friendly giving every player an equal opportunity to play with a large range of price options to play with. You don't have to be a millionaire to enjoy this game.
Players don't even have to be mathematicians to play slot games, because the games total your winnings for you. When it comes down to the real reason that slots are popular, the answer is that they provide a psychological outlet for hope, and a mental massage from a stressful day. You can literally relax in front of a slot machine and give your brain a much-needed rest. Added to that, the sound effects of the bells and whistles from slots are entertaining and remind players of childhood memories of the circus and summer fairgrounds. Brightly colored graphics are the final touch, and the slots will draw the eager player in to win the jackpot once again.