Player testimonials
"I have played at many online casinos and I would just like to say that Win A Day is the BEST casino that I have played at. Their games are all one of a kind you won't find them anywhere else. The customer service support is fantastic. If you haven't played at Win A Day I suggest you do."
"Win A Day is the place to play, come one come all. A place of fun and games galore! Great customer service, deposit bonuses and surprises. It's is the best casino and definitely worth your time. Thanks Win A Day for all you do, I will always support you."
"I truly love this site and the best part is NO DOWNLOAD!! That and the fact that you have the most unique games is what causes me to continue to play. In addition to really enjoying the games, you have wonderful support staff. It's a lot of fun, good job!"
"Straight up guys, you nailed it, this casino is so new and different and so much fun. The odds are so fair, bonuses and games are too great not too invest in them. I've been gambling online for a long time and played in many casinos but have never had this much fun anywhere else. I highly recommend it!"
Tips For Finding The Best Slot Games
Posted on August 29, 2014
When you decide to visit an online casino, finding real money slot games is easy. There will be plenty of slots for you to choose from, though you want to decide on which one to play. Whether you have a small budget or not, there is no reason to waste your money on games that won't provide you with a lot of entertainment.
Before you even settle on an online casino, you want to explore the different slot machine games that are available. The reason for this is because you will only want to create an account at one casino. Once you have an account, you can then play instantly all the games that the particular casino has to offer without cashing out between games.
The account is there for you to use on each and every game. As long as you stay within the website, you can go from slot to slot without having to do anything with your money. This makes it easy to play for hours and have fun while you do it.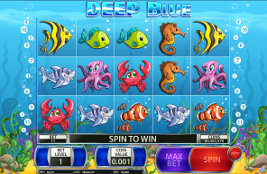 When you want to find the best slot games, you have to consider what your budget is. If you have a small budget or you don't want to risk a lot, you want to find games where you can wager just a penny per line. This keeps it affordable while providing you with hours of entertainment. As you win, you may even want to increase your per line bet to two pennies or even up to a nickel. The choice will be yours.
You also want to consider what you find to be entertaining. Do you like the Wild West? Ancient Rome? The luck of the Irish? These are all themes that you can consider when you choose slot games because there are so many of them out there. The icons and the graphics throughout the reels will be of a particular theme and this is what will keep you entertained.
Whether the slots are for money or not, you want to find something that is entertaining. Otherwise, you are going to get bored - or even frustrated if you are not winning the large amounts that you had hoped to.
There are some people who gain addictions to gambling because they keep playing in hopes of hitting the jackpot. While hitting the jackpot would be amazing and it has happened in the past, the reason to play should be for the fun of the slots, not to win money.
As you follow these tips, you can be sure that you find the best online casino as well as the best slots. Only then can you feel comfortable about sitting down in front of a screen and playing until your heart is content. With more variety in the games comes for entertainment value.