Player testimonials
"Win A Day is a unique, one of a kind casino and I can say from my own experience, you guys are personable and thoughtful to your players. Thanks to your whole team, you guys and gals make a great team together and a great online gaming experience come true! Win A Day is an honest online gaming site that I truly love."
"I started at Win A Day's sister site, Slotland, over 10 years ago, and I did not think that I would find an online casino that I liked better...that was until I played a couple of times at Win A Day! Playing here is so much fun, I have not been to my favorite land casino in over a year! That, is a loyal player!"
"I truly love this site and the best part is NO DOWNLOAD!! That and the fact that you have the most unique games is what causes me to continue to play. In addition to really enjoying the games, you have wonderful support staff. It's a lot of fun, good job!"
"I have played at many online casinos and I would just like to say that Win A Day is the BEST casino that I have played at. Their games are all one of a kind you won't find them anywhere else. The customer service support is fantastic. If you haven't played at Win A Day I suggest you do."
Win A Day Slot Games Show Us How to Let Loose
Posted on September 24, 2014
From the first simple reel nickel machines (which were introduced in 1899) to the latest online variations, slot games have held our attention. Much like curious cats, we stare at swirling graphics with hope and speculation. However, we've come a long way from pulling a lever and waiting for mechanical reels to reveal, or not reveal, the right combination for the win. Now the opportunity to enjoy intricate, diverse slot games is as close as our laptop or PC.
Why should we give in to curiosity? There are several reasons. To begin with, generally speaking computer games can help us unwind after a long day, and online casino games provide numerous game choices, or ways to relax. Win A Day Casino (www.winadaycasino.eu) is one place to visit for these diverse amusement opportunities. Plus, Win A Day Casino welcomes visitors with lots of experience, some experience and no experience.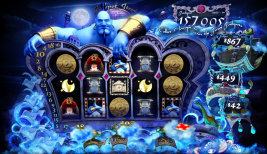 Since gaming made its move from brick and mortar casinos to the online environment, we don't have to physically visit the casino to participate in gaming excitement. Rather, the casino has moved into the more restful surroundings of our own homes. We don't have to be concerned about hazy, smoke-filled rooms or boisterous, preoccupied crowds. We can wear what we want and get comfy in front of our computers, making Win A Day Casino the perfect place to visit. In fact, Win A Day Casino works hard to provide unique experiences, adding a new game approximately once a month.
Playing slot games -- be it on a mobile device or a desktop computer -- is not only a great tension reducer, but great fun as well. First, the vast variety allows us to choose our favorite interests and themes, thereby providing us an escape into worlds of our choosing. Second, our attention is diverted away from the daily grind, which is very therapeutic. Finally, the anticipation of winning creates an optimistic mood and can release endorphins, the feel-good-hormone. In fact, there are those who believe playing is actually meditative.
In addition, Win A Day Casino is open 24/7. No matter when our free time is, we can play. Another available 24/7 benefit is online support. We can get answers to any questions at any time, making the experience supportive and dependable. Finally, slot games are easy to play and a great way to acquire gaming experience.
Win A Day Casino features many real money games which reflect a restful yet stimulating atmosphere through visual, sound and musical effects. Tropical Treat, Heavenly Reels and Jackpot Jinni all fall within this description. The truth is, we all enjoy something different. Any slot game we choose is the right one for us. Plus, who wouldn't feel ecstatic when the bells and whistles ring signaling a winning jackpot? So let's choose the game that suits us best and enjoy our adventure.