Player testimonials
Out of all the casinos I have played at, having played for many, many years now, Winaday is by far the best. And has the BEST of everything! The games are top notch and have great payouts.
The support agents have an exceptional talent, always cheerful and genuine, by far the top representatives in the online business. They are the best when it comes to reminding players of Promotional and Bonus Specials!
Winaday makes a long commute to work fly by! Some of the best games are available to play on my phone.
I don't know why I sometimes play at other online casinos as they don't come close to yours. Winaday casino makes it so easy and simple if you ever take advantage of a promotion or bonus. Everything you want in an online casino is at Winaday casino!
Three Reasons To Play Slot Games Online
Slot games have been popular since they were first invented. Virtually everyone is drawn to them not only because of the possibility of winning money but also because of the sights and sounds. They can provide hours of entertainment. Since the Internet, real money slots can now be played online - and there are three good reasons to do so.
The first reason to play slot games is it is easy to do on an instant play casino. This means that you can reach the casino and begin playing as soon as you have an online account. You won't have to download software because it is all created using Adobe Flash or HTML 5 Canvas technology. This benefits you in a number of ways because it allows you to play when and where you want.
Since you don't have to download software, you can play the games you want for real money, even if it's not your computer. This is because you won't have to get downloading permissions.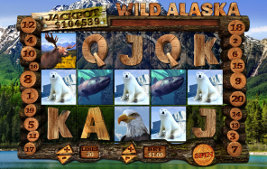 The second reason to play slot games online is because you never have to wait for someone to get up from the machine you want to be on. If you have ever gone into a casino and spotted machines you wanted to play, you probably noticed that someone else was already sitting there. This can be very frustrating and you may not be patient enough to stand there and wait for a person to run out of money or grow bored with the machine.
When you play online, the games you want to play are always available. You just choose the one you want to be on and begin playing.
The third reason to play slot games online is so that you can switch from game to game with ease. Once you create the online account, you are paid for all of the games that are on that casino. That means you don't have to cash out of one, wait for the paper to print, and then load it into the next machine. You simply hop from slot to slot and your money follows you because of a central online account that houses your money for you.
Playing all of your favorite casino games should be easy. The moment it gets complicated, you need to realize that you are at the wrong casino. Online casinos have been growing in popularity and much of that has to do with convenience. When you find the instant play version, it allows you to play at home, at work and on the go on your mobile phone or tablet.
You don't have to travel anywhere to get to play the games you want and you have the ability to play to win real money, just as you do in the traditional casinos. This means that you can have all the fun you want inside of a casino, even if you don't live in a city where there are real casinos.