Player testimonials
"I truly love this site and the best part is NO DOWNLOAD!! That and the fact that you have the most unique games is what causes me to continue to play. In addition to really enjoying the games, you have wonderful support staff. It's a lot of fun, good job!"
"I have played at many online casinos and I would just like to say that Win A Day is the BEST casino that I have played at. Their games are all one of a kind you won't find them anywhere else. The customer service support is fantastic. If you haven't played at Win A Day I suggest you do."
"The games at Win A Day are so different to other casinos, they have so many unique features that really make them stand out! I will return to play here over and over again. When you combine the wonderful games, superior customer support and terrific daily promotions it's a no brainer. Win A Day is a winner for me!"
"Win A Day is a unique, one of a kind casino and I can say from my own experience, you guys are personable and thoughtful to your players. Thanks to your whole team, you guys and gals make a great team together and a great online gaming experience come true! Win A Day is an honest online gaming site that I truly love."
Why Slot Games May Be the Best Beginner Gambling Games
Posted on December 4, 2014
There is a lot to be said for starting out with slot games for real money. If you have never played poker or gambled in any way, the fun that these types of games can offer can't be beat. Since we have so many varieties, you can satisfy just about any interests you have while learning how to play a new game. Learn about some of the reasons why these games are sometimes the best games for new gamblers to start out on.
No Competition
When you play slot games for real money, you aren't competing against anyone. Sometimes people who try new things feel nervous about doing so in front of others. This is sometimes true even in an online format. Aside from that, you don't have to worry if other players have more skills than you do, so you don't have to worry about being new at the game and losing just because you haven't quite developed your skills yet.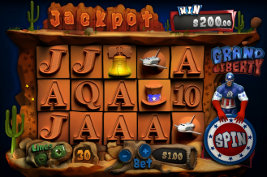 Limited Rules
Playing slots is easy because you don't have to learn a lot of rules. The biggest thing you might want to do is familiarize yourself with terms like "payline" so you know how many chances you have to win.
Stop At Any Time
Since you aren't playing a game that invovles other people, you can stop playing any time you want to and come back without worrying about what may have transpired. This is even more beneficial since our games can be played on mobile devices so you can play while you are waiting for an appointment or just want to fidget for a minute, but not get wrapped up in something extensive.
Multiple Ways to Win
You actually get to decide how many ways you can win, which is where the payline comes into play. Whether you are playing penny slots or something a bit more expeonsive, you can choose 4 paylines, 30 paylines, or somewhere in between. A payline is the row of symbols that will need to match up in the order designated for you to win. That means that slot games with 30 paylines offer you 30 different ways to win in one game. Very few casino games offer this kind of potential.
Instant Gratification
When you play the slots, you don't have to wait to see if you won. You find out right away. That means you get instant gratification over and over again for as long as you want to play. Since your winnings aren't dependent on what any other player does, you don't even have to wait around to see what they plan to do.
If you are interested in trying your hand at these games, stop by and visit us at Win A Day Casino. We will be happy to help you learn the ropes and join in the fun, even if you do so through a mobile device.