Player testimonials
"I have cashed out at other places but you made the process unbeatable, you kept me informed throughout and all this at no cost to me. My new saying about your casino is "Why play with the rest, when you can play at the best!" Win A Day/Slotland casinos an experience you will never forget."
"Win A Day is a unique, one of a kind casino and I can say from my own experience, you guys are personable and thoughtful to your players. Thanks to your whole team, you guys and gals make a great team together and a great online gaming experience come true! Win A Day is an honest online gaming site that I truly love."
"Win A Day is the place to play, come one come all. A place of fun and games galore! Great customer service, deposit bonuses and surprises. It's is the best casino and definitely worth your time. Thanks Win A Day for all you do, I will always support you."
"I truly love this site and the best part is NO DOWNLOAD!! That and the fact that you have the most unique games is what causes me to continue to play. In addition to really enjoying the games, you have wonderful support staff. It's a lot of fun, good job!"
Understanding Techniques for Slot Machine Games
Posted on November 26, 2013
Slot machine games are some of the most popular to play at casinos. They are easy to learn and players have the option of betting only a few cents up to much larger amounts of money. As casino gaming has moved online, the popularity of slot machines quickly followed. Today, many people enjoy sitting at home on their couches playing several rounds of online slots, but they want to know if there are any techniques or tricks they should use to increase their odds of winning. Here is the truth behind the games.
How slots payouts work
Players can choose to gamble on slot machines ranging from about $.05 up to $100, and the payouts from the jackpots can be some of the largest in the casino, making these games very enticing. The payout percentage of slot machine games typically run around 93 percent, but keep in mind this percentage is averaged out over 100,000 to 300,000 pulls. Every possible number combination is assigned a number, and a random number generator within the machine, or within the online host for online slots, will determine which combination appears for the player.
Myths surrounding slots
Since slot games tend to be so popular, there are a variety of myths surrounding how to tell if a machine is going to be 'hot'. One popular myth is that if a machine has recently had a big payout, then it will be 'cold' for a while. Since the random number generators are what determine the combination, recent winnings do not affect the outcome. The same is true for the opposite myth, that machines which have not had a victor recently will be 'due' for a big payout. Again, since the combinations are generated randomly, no such pattern exists. Those who are playing in person may also buy into the myth that casinos place the 'hottest' machines in the aisles, when in fact all the games will be programmed with the same payout algorithm.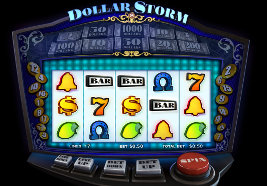 True techniques to use
Just because the above myths are false does not mean that players should begin without any strategy. For example, it is a good idea to begin with a strict budget with slot machine games. Since it is easy to get enticed to try and 'win back' losses, many people find themselves losing more money than they planned on. Similarly, when players are victorious, they should set aside their winnings and not play them. This will increase their odds of walking away in the black. Big players may also find it useful to do research about the different games offered at a particular casino to determine which are programmed with the highest payout percentage. Occasionally, they can get lucky and find one with payouts over 95 percent. Finally, novices at the game should start small, with three reel versions, to help them get tde hang of the game before they jump into five reels.