Player testimonials
"Win A Day is a unique, one of a kind casino and I can say from my own experience, you guys are personable and thoughtful to your players. Thanks to your whole team, you guys and gals make a great team together and a great online gaming experience come true! Win A Day is an honest online gaming site that I truly love."
"I have played at many online casinos and I would just like to say that Win A Day is the BEST casino that I have played at. Their games are all one of a kind you won't find them anywhere else. The customer service support is fantastic. If you haven't played at Win A Day I suggest you do."
"Straight up guys, you nailed it, this casino is so new and different and so much fun. The odds are so fair, bonuses and games are too great not too invest in them. I've been gambling online for a long time and played in many casinos but have never had this much fun anywhere else. I highly recommend it!"
"I started at Win A Day's sister site, Slotland, over 10 years ago, and I did not think that I would find an online casino that I liked better...that was until I played a couple of times at Win A Day! Playing here is so much fun, I have not been to my favorite land casino in over a year! That, is a loyal player!"
Understanding How Slot Machine Games Work (Part 2)
Posted on March 7, 2014
When enjoying slot machine games online, many players think it is just a button mashing game. Experienced players will tell you that all casino games employ a certain amount of strategy, even if it is just when to bet and when not to bet.
Although you may think that slot games are nothing but pulling levers or pushing buttons, there is more to it than that. There are many strategies that you can employ, especially if you want to win big, but then again, there are some very simple strategies that you have to know before you even start playing at these real money one-arm bandits. These strategies will help you keep your bankroll, increase it, and avoid chasing after your losses.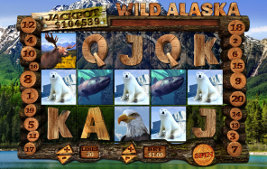 Maximizing Your Potential To Win
One of the best ways to increase your chances of winning is to look for a slot machine that offers the best when it comes to payout. For this reason, you should always choose a machine that has 95%% or more payout rate.
Another strategy that you should employ when it comes to playing at slot machines is that you should understand the odds and probabilities of the popular slot machines, and in the same concept, it will also be to your advantage to look at the payout schedule of the different slot machines, so you get the benefit of choosing one that will give you the biggest prizes. One other way of protecting your bankroll and making sure that you do not lose all of it in one night is to choose a machine that will best fit your budget or at least one that is easy on your pockets. It will not do you any good to have a bankroll worth $50 only to play at a $30 slot machine.
Keeping A Level Head
One strategy that will work wonders for your odds is to be levelheaded when you play. This includes walking away from a cold machine; meaning, if you are always losing at the machine that you are playing at, then walking away from that particular game will certainly help you. What will not help is to continue playing at a cold machine, especially if you feel nothing but frustration and panic at wasting your real money.
Of course, all these would be useless if you choose a slot machine that you know next to nothing about. For this reason, you really need to choose a machine that you are familiar with. If, however, you want to try another game, the best approach to that is to study the game first, especially its payout schedule.