Player testimonials
A fair, honest, and professional business. There are many players out there searching for the peace of mind and integrity that accompanies a reputable site such as Winaday. I want to thank all employees, top to bottom, for the stellar service provided."
Winaday makes a long commute to work fly by! Some of the best games are available to play on my phone.
I have been playing Winaday for a long time and you are my favorite. I have basically stopped playing most of my other casinos and WinADay is the ONE.
"The games at Win A Day are so different to other casinos, they have so many unique features that really make them stand out! I will return to play here over and over again. When you combine the wonderful games, superior customer support and terrific daily promotions it's a no brainer. Win A Day is a winner for me!"
Six Great Online Slot Machine Games from Win A Day Casino
It is no secret that there are a ton of online slot machine games and websites to choose from. However, one of the absolute favorites is Win A Day Casino. Why? They are one of the few who offer online slots for real money and the games are actually fun to play. In fact, they have over fifty different and unique games to choose from, including progressive slots and penny slots. Here are the top six favorite slot games at this online casino.
Win A Day Casino Best Game #1: Wild Alaska
One of the coolest online slots at Win A Day Casino is Wild Alaska. This game is tied to the site-wide progressive jackpot and features a whimsical Northern frontier theme. It has twenty paylines and bets range from $0.03 to $20, giving you the choice to play at your favorite price point. You can also win free spins and the game has a 3X multiplier for its bonus rounds.
What players really like the most about this particular slot game is that it makes it very easy to win moderate to large jackpots. In October 2013, a Win A Day player actually won over $217,000 on a single spin playing this game. The bonus structure for these casino games are very fair, making it quite easy to get into the bonus round without too much hassle.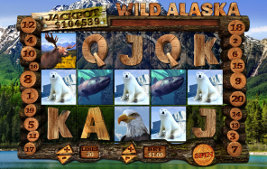 Win A Day Casino Best Game #2: Gladiator Games
Gladiator Games is definitely one of the most popular online slots casino games at Win A Day Casino. This game is tied to the progressive jackpot, giving you an excellent chance to win a large sum as the site-wide total rises. Bets range from $0.05 to $60 per spin. It is considered one of Win A Day's premium slot machine games, which often means there are tournaments for this particular game on the Win A Day Casino website. It is one of many Win A Day Casino's slot games with a total of five reels.
But, the best part about Gladiator Games is its unique bonus round. Players actually choose an illustrated gladiator they want to "fight" for their winnings in a coliseum lion duel. During the round, they have the ability to win a virtual treasure chest with special multipliers and other tokens. This unique bonus round is one of the biggest draws to these types of casino games, with this one including amazingly detailed Roman-themed graphics.
Win A Day Casino Best Game #3: Alice in Wonderland
Become enchanted with Win A Day Casino's Alice in Wonderland game. This whimsical slot game features beautiful graphics, thirty paylines, and a delightful classic storybook theme. Bets range from $0.03 to $60 and you can easily win multipliers. Like Wild Alaska and Gladiator Games, this game is tied to the site-wide progressive jackpot, giving you another great chance to cash in.
The most exciting thing about the Alice in Wonderland game is its bonus round. The Alice scatter symbol is not only quite detailed, it gives you an excellent chance to really win a fair amount of real cash. Other characters, such as the Mad Hatter and the Tweedles, also work as bonuses.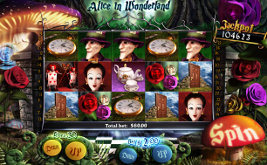 Win A Day Casino Best Game #4: City Girls
After Win A Day Casino realized how popular penny slots were, they added several more to their collection. One of these included City Girls, a fifteen payline slot game with a really feminine theme. With a bet-per-line maximum of only $0.01, this game gives you the ability to play for hours on only a few dollars.
While City Girls isn't a progressive jackpot and the initial bet is so low, the chance of winning a large jackpot is a bit slimmer on this game. However, it is one of the greatest online casino games for those who like penny slots or do not want to spend too much money at an online casino. Furthermore, it is a great game choice for those who are just starting out with slot games.
Win A Day Casino Best Game #5: Leprechaun Luck
Leprechaun Luck is another wildly successful game on Win A Day Casino's website. This game is also tied to the site-wide progressive jackpot, which can easily be over $50,000 at any given moment. With thirty-one paylines and bets of up to $124 per spin, this game gives you an excellent chance of bringing in a large cash win.
To win the jackpot, you must get five rainbow symbols. There are wild and double wild symbols, plus a bonus round game. Overall, this is a great game for those who like progressive jackpots with a whimsical twist.
Win A Day Casino Best Game #6: Tropical Treat
Get ready to win your way into the island getaway of your dreams with Tropical Treat. This fifty payline slot game ties into Win A Day Casino's site-wide progressive jackpot, giving you enough winnings for the vacation of your dreams should you spin the right combination. Bets start at just $0.01 and go all the way up to $200. The game has a fun island design and also features an exciting bonus round.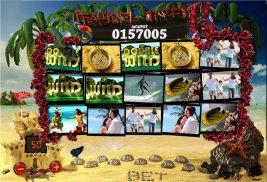 The thing that Win A Day players like best about Tropical Treat is that it has so many different paylines. Almost every spin turns into some sort of win, even if it is just a minor one. That alone is one reason why the players keep coming back to this online slot game specifically. There is also a chance to win free spins.
In conclusion, Win A Day Casino has a wide variety of great online slot games to suit your individual taste. Whether you like progressive slots or penny slots, there are plenty of different types to choose from with their excellent selection of online slot games. Winning their growing progressive jackpot seems quite easy, as they have dozens of documented winners of over $100,000. If you are looking for a great place to win real money playing online slots, Win A Day Casino's online slot machine games are a great place to start.