Player testimonials
I don't know why I sometimes play at other online casinos as they don't come close to yours. Winaday casino makes it so easy and simple if you ever take advantage of a promotion or bonus. Everything you want in an online casino is at Winaday casino!
Out of all the casinos I have played at, having played for many, many years now, Winaday is by far the best. And has the BEST of everything! The games are top notch and have great payouts.
"The games at Win A Day are so different to other casinos, they have so many unique features that really make them stand out! I will return to play here over and over again. When you combine the wonderful games, superior customer support and terrific daily promotions it's a no brainer. Win A Day is a winner for me!"
Winaday makes a long commute to work fly by! Some of the best games are available to play on my phone.
How To Keep Slot Machine Games Going Longer
When you are going to play on slot machine games, the idea is always to play for as long as possible without having to go in for more money. Ideally, you will win big. Even when you don't, there are some tips that you can employ that will allow you to play for longer periods of time. This ensures you have fun without going broke.
If your focus is to spend as much time at an instant play casino using as little money as possible, you want to make sure you are choosing the right games. There are penny slots found at many casinos. Many of these aren't identified as such because in a virtual environment, you choose the coin size that you wish to gamble with on the screen.
Select "Penny" and you will have penny slots in front of you. You will want to bet so that you have activated all of the pay lines, but you can bet the minimum amount per pay line. If there are a total of 30 pay lines, you can simply wager 30 cents. If you start betting two or three times the pay line, you could be spending much more, which means you will empty out your bank faster.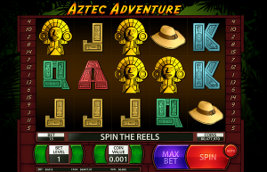 While you hope that you will hit the jackpot or at least plenty of high paying winning combinations, you have to assume that you won't hit any just so that you can preserve your money for longer periods of play on the slot machine games.
It's always a good idea to find a casino that has a high average payout. If a casino advertises a 95 percent payout, it means that if you spend $100, the average that you will have after spending that amount in the machine is $95. However, this can vary simply because of the luck of the pull.
Understanding the many strategies that are employed by casinos and within the slot machines are important so that you don't foolishly waste all of your money. You want to use your money in such a way that you stand a greater chance of winning but without betting it all on each pull.
The reason behind playing all of the pay lines is so that you can capture as many winning combinations as possible. If you only play a single line, it is likely the one that goes straight across and it reduces your odds of winning drastically.
You should get in the habit of playing slot machine games that feature wild symbols, bonus features, multipliers, scatters and more. This will help you to hit more combinations on the screen so that you can win more money and continue playing the games without having to reach into your wallet and put more into your online casino account.