Player testimonials
I don't know why I sometimes play at other online casinos as they don't come close to yours. Winaday casino makes it so easy and simple if you ever take advantage of a promotion or bonus. Everything you want in an online casino is at Winaday casino!
I have been playing Winaday for a long time and you are my favorite. I have basically stopped playing most of my other casinos and WinADay is the ONE.
A fair, honest, and professional business. There are many players out there searching for the peace of mind and integrity that accompanies a reputable site such as Winaday. I want to thank all employees, top to bottom, for the stellar service provided."
"The games at Win A Day are so different to other casinos, they have so many unique features that really make them stand out! I will return to play here over and over again. When you combine the wonderful games, superior customer support and terrific daily promotions it's a no brainer. Win A Day is a winner for me!"
Why Slot Machine Games Are Gaining Popularity
Around the globe, people are learning about slot machine games. There are more people playing these games and much of it has to do with the technology that is available. More trends in mobile gaming are exposing people to these casino games, which includes online slots. This allows people to play a game for entertainment and have the chance to win real money at the same time.
One of the main reasons for slot machine games gaining popularity is because people have the opportunity to play on a variety of mobile devices. This includes smartphones and tablets.
When you decide that you want to play online slots for real money, you don't need to download software in order to play. Software can take up a lot of hard drive space and you may be unable to download the software based upon the computer that you are using. If the permissions are locked or you are behind a firewall, it may not allow you to download what you need.
Win A Day Casino utilizes HTML5 technology. This computer language allows for better sounds and graphics inside of a web page. This means that when you play slot games, they can be played from within your browser. Forget about having to settle for a less than ideal gambling experience because you will be able to experience high quality graphics as a result of this new computer language.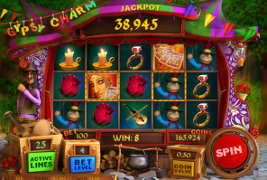 Many websites that still utilize older HTML and Javascript for graphics and in-browser games are being shunned by users. This has to do with the overall user experience that is being provided. People who use mobile devices that don't have a fast processor deal with long load times and interruptions within the graphics. Despite the processor that you have in place, you won't have to worry about a glitch in the way that the slot games work when they are run by HTML5 technology.
There are various programmers in the casino industry that make games and then share them with countless casino sites. This means that you are exposed to the same games over and over again. When you want variety, Win A Day Casino offers you 50+ unique real money games that cannot be played anywhere else. Some of the games that you will find to play on the site include:
Alice in Wonderland
Busted!
Dollar Storm
Dragons' Lair
Gladiator Games
Leprechaun Luck
and many more ...
Regardless of what theme you are looking for, you will find one that is entertaining for you. The high-end graphics put you in the middle of the action. This allows you to enjoy hour after hour of the slots without growing tired of what's offered.
This is another reason for people playing the slot games. It is entertaining as well as a form of gambling. If you control the amount that you spend on each spin, you can play for extended periods of time without spending a lot of money. Win A Day Casino offers spins at around $0.02 per pay line. This means you have the ability to keep your spins at less than a dollar. If there are 20 paylines, you could potentially spend $0.40 per spin to cover all of the paylines - though there is the option to spend more if you so desire.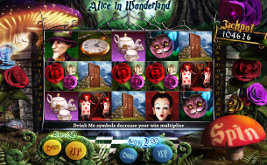 With more graphics being offered within the casino games than ever before, it allows you to home in on some fun. Whether you are playing Busted! and watching the cops and robbers come to life or you are playing Alice in Wonderland and watching the Cheshire Cat, the graphics are enough to make you feel as though you are in the action.
The graphic designers for the games have also used the latest technology to add more bonuses to the games. Instead of just using multipliers and wild symbols, there are other ways to win more money within the games. Randomly, you will be able to hit a bonus within many of the casino games. For example, Grand Liberty, which has a progressive jackpot, also has a bonus feature.
If you are fortunate enough to trigger the bonus round, the game comes to life even further and provides you with choices. You then guide the game to where you want in order to be in control of your own destiny. The benefit to this is that you feel as though you are doing more than just spinning a reel - which is another reason for people getting involved with the casino games.
The bonus can provide instant credits, free spins and much more. The money that is won on the bonus can be used to continue game play or you can choose to cash out at any time.
The technology, the graphics, and the variety of games are being shared all across the Internet. People know about the presence of slot games because it is being talked about in technology magazines, gambling sites and even social media.
Once people become of legal gambling age, they are able to play for real money, too. If you love casino games and you love the idea of being able to win real money, then you will want to explore an instant play casino that offers the features that you want.
Win A Day Casino offers a variety of promotions for you to take advantage of. For example, you can obtain free money with a welcome bonus when you make a deposit. You can also acquire points through the cashback bonus. These bonuses are automatic and you don't have to do anything extra in order to activate them.
With all that is being offered on the Internet, it is no surprise why people are turning to slot machine games. Best of all, you can play online instead of going into a local casino, which means you can play at your convenience.