Player testimonials
"I am totally impressed, Win A Day surpasses itself with each new truly brilliant game. The graphics are awesome, the games play fast and the surprises you may get keep you on the edge of your seat with each spin. I feel like I am sitting at a slot machine in a land based casino....this is just so exciting."
"Win A Day is a unique, one of a kind casino and I can say from my own experience, you guys are personable and thoughtful to your players. Thanks to your whole team, you guys and gals make a great team together and a great online gaming experience come true! Win A Day is an honest online gaming site that I truly love."
"Straight up guys, you nailed it, this casino is so new and different and so much fun. The odds are so fair, bonuses and games are too great not too invest in them. I've been gambling online for a long time and played in many casinos but have never had this much fun anywhere else. I highly recommend it!"
"I played on less than $20 the other day and this lasted me ALL day! My butt was tired from playing so long! I can't say that I have ever had that experience before. It was really fun. I LOVE your site. You offer the most unique gaming experience!"
Casino Games That Are Easy To Play
Posted on August 28, 2014
It's important to find casino games that you know how to play immediately upon getting into an online casino. While table games can involve a lot of skill, slot machines don't require the same. These real money games are completely based upon luck and can provide hours of entertainment.
When you look at slot machine games, there are only a few things for you to do. You will choose the theme of the slot that you wish to play, how many lines you want to activate, and how much money you want to wager per line. Once you have lined up these three things, you press a button to spin the reels and then wait for them to spot.
The slot machine will stop at random based upon computer generation. If you have winning symbols, then you will be paid according to the pay table that is shown somewhere on the site. In some instances, there are also going to be bonus rounds. If you are fortunate enough to hit a bonus, the screen will walk you through what needs to be done.
There are plenty of instant play casino games for you to choose from on Win A Day Casino. This makes it easier for you to find a game that is of interest to you. When you want a break from slots, you can also explore keno. This is similar to lottery where you choose a few numbers and then wait to see which numbers are pulled. The more numbers you match, the more you win.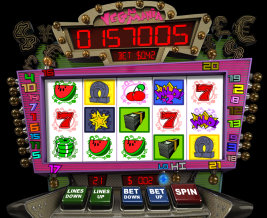 If you are feeling particularly adventurous, you may also want to try video poker, but it involves more skill. This is because you have to determine what cards you want to hold and which ones you want to discard so that you can make the best possible poker hand.
It can be better to stick with slots, especially when you want mindless entertainment that doesn't require much thinking. This is why slots have been called pokies. You can sit there for hours and just poke at the machine. Some spins will provide winning combinations while others will not. If you hit a bonus, it can be even more fruitful because of being able to get multipliers as well as added money beyond what the winning combination pays.
While most of the real money games available in an online casino provide instruction, you don't always want a lesson before playing. As soon as you go into an online casino, you can go into the online slots section with confidence knowing that you can figure out how to play the games. As long as you have money loaded in your online account, you will have what you need to play any of the casino games that you desire - including a slot with a theme of your choosing.