Player testimonials
"Win A Day is the place to play, come one come all. A place of fun and games galore! Great customer service, deposit bonuses and surprises. It's is the best casino and definitely worth your time. Thanks Win A Day for all you do, I will always support you."
"Win A Day is a unique, one of a kind casino and I can say from my own experience, you guys are personable and thoughtful to your players. Thanks to your whole team, you guys and gals make a great team together and a great online gaming experience come true! Win A Day is an honest online gaming site that I truly love."
"Straight up guys, you nailed it, this casino is so new and different and so much fun. The odds are so fair, bonuses and games are too great not too invest in them. I've been gambling online for a long time and played in many casinos but have never had this much fun anywhere else. I highly recommend it!"
"I have cashed out at other places but you made the process unbeatable, you kept me informed throughout and all this at no cost to me. My new saying about your casino is "Why play with the rest, when you can play at the best!" Win A Day/Slotland casinos an experience you will never forget."
Winning Strategies For Casino Games
Posted on September 3, 2014
There are long-term and short-term strategies for winning at real money casino games. Short-term strategies are useful in games where the expected outcome is negative over long periods of play. Long-term strategies are useful when the expected outcome is positive over long periods of play. Short-term strategies consider luck and use money management techniques to reduces losses. Long-term strategies have their basis in skill and need a large enough bankroll to withstand significant periods of out-of-the-ordinary losses. Let us look at both of these strategies in more detail.
Short-term Strategy
Win A Day Casino is an instant play casino. We have casino games with a very high payback of 98%. This means, for $1 play in those games, the player will get back 98 cents. However; this is only for play over very long periods of time, as an average. It is possible to play one dollar and win a substantial jackpot. The total is 98% payback for all players; however each individual player's results are substantially different from the other ones. Some win big in casino games. This is where luck comes in. Good money management techniques helps capture the lucky win and keep it. These include: 1) setting aside a certain amount of money for play, if lost take a break from playing and try the next day; 2) if this money increases by 50% then take a break from playing and try the next day, or; 3) if any major jackpot hits at any time, take a break from playing and try the next day. The idea is to keep your winning when you have a lucky streak.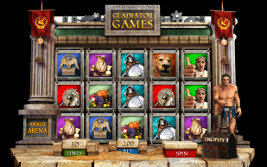 Long-term Strategy
For games where it is possible to gain a slight advantage over the house through skillful play, such as blackjack or roulette, the idea is to stay in the game as long as possible and play as many rounds as possible. Another game where skills give an advantage, is poker. Skill only comes from practice. One money management technique has the name of the Martingale strategy. Starting with the minimum bet, double each bet until a win or the table limit is reached. For example, in a $2 game with a $2500 table limit, the bet series would look like 2-4-8-16-32-64-128-256-512-1024-2048. To win with this strategy over the long-term, the player must win one time in a maximum of eleven plays. Twelve losses in a row is a failure, which is rare but certainly happens. The minimum bankroll required to start play is $4,094. Each win is $2. This strategy slowly accumulates money over time unless the deadly loss of 12-in-a-row occurs.