Player testimonials
"The games at Win A Day are so different to other casinos, they have so many unique features that really make them stand out! I will return to play here over and over again. When you combine the wonderful games, superior customer support and terrific daily promotions it's a no brainer. Win A Day is a winner for me!"
"I am totally impressed, Win A Day surpasses itself with each new truly brilliant game. The graphics are awesome, the games play fast and the surprises you may get keep you on the edge of your seat with each spin. I feel like I am sitting at a slot machine in a land based casino....this is just so exciting."
"Win A Day is a unique, one of a kind casino and I can say from my own experience, you guys are personable and thoughtful to your players. Thanks to your whole team, you guys and gals make a great team together and a great online gaming experience come true! Win A Day is an honest online gaming site that I truly love."
"Every now and then you come across a video slot that makes you say "WOW". The release of Fluffy Paws, has done just that for me. I just love those bonus rounds and the fantastic graphics and sounds."
Anyone Can Play Online Slots for Real Money (Provided They're of Legal Gambling Age of Course)
Posted on August 7, 2014
Gambling tends to have an image of older people who spend their days at the casino for lack of nothing better to do. The truth is, gambling draws players from a broad spectrum of society, ranging from those who are just of the legal age to gamble to the middle-aged and beyond. There is no stereotyping people who gamble. Further muddling the imagery is the fact that online gaming is a popular pastime where people play online slots for real money alongside other games.
Playing games online is an opportunity to enjoy the fun of the game without having to go to a physical location. It also gives access to a bit of fun to those who wouldn't or couldn't otherwise go. There is the option to play for points or for real money. Some prefer to hone their skills on the point play before going ahead and making a deposit for real play. It's an opportunity to learn the mechanics of the game and become an educated player without having to spend a cent.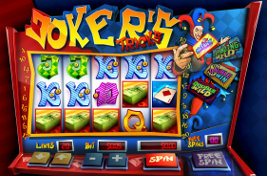 Casino games are always changing, and online slots are no exception. There is no worrying about the game going stale when playing online slots for real money. It's about keeping the play exciting for gamblers. There are also many virtual slot machines to play in the event that one theme isn't as interesting. Switch over to a new theme, put it on free play in order to learn the game, then put down some money for a chance to win some cash for the time spent. If this isn't enough of an enticement, there are offers that double the money on deposits, and big pots can be played for in certain games. The opportunity to win a jackpot is there, just as it would be in a casino.
It's normal to wonder about the security and legality of online gambling. When it comes to the law, Internet gaming is a state-by-state issue. As it currently stands, the attitude is in favor of legalizing virtual gaming, and many states have enacted laws to allow people to gamble from the privacy of their own homes. Security for users is at the highest possible level of encryption. The information that passes between the user and the site is solidly protected with the latest technology. There is no need to worry that a hacker is going to be able to get sensitive information and engage in identity theft.
Playing online slots for real money is all about re-creating the excitement of the casino in the comfort of the home. All of the action that is found in the casino is found online, and players are guaranteed to have a good time, even while sitting at home.