Player testimonials
"I have played at many online casinos and I would just like to say that Win A Day is the BEST casino that I have played at. Their games are all one of a kind you won't find them anywhere else. The customer service support is fantastic. If you haven't played at Win A Day I suggest you do."
"I started at Win A Day's sister site, Slotland, over 10 years ago, and I did not think that I would find an online casino that I liked better...that was until I played a couple of times at Win A Day! Playing here is so much fun, I have not been to my favorite land casino in over a year! That, is a loyal player!"
"Straight up guys, you nailed it, this casino is so new and different and so much fun. The odds are so fair, bonuses and games are too great not too invest in them. I've been gambling online for a long time and played in many casinos but have never had this much fun anywhere else. I highly recommend it!"
"Win A Day is the place to play, come one come all. A place of fun and games galore! Great customer service, deposit bonuses and surprises. It's is the best casino and definitely worth your time. Thanks Win A Day for all you do, I will always support you."
Tips For Choosing Slot Games
Posted on November 8, 2013
Slot games can be a significant amount of fun -- especially when played online in the comfort of your own home. You can turn up the sound and listen to the reels spin around and concentrate on your winnings -- instead of all the chaos that is going on around you, which is common when you go to an actual casino somewhere in the world.
First and foremost, you have to find slot games that you can play in your country. This ensures that you follow all of the legalities -- including paying taxes on your winnings. While you may not want to give Uncle Sam a portion of your winnings, you are required to by law -- and it is important that you gamble by the book.
When you look into the different casino games out there, you want to stay entertained. What keeps you entertained? You can find a variety of games that are based upon TV shows, movies, as well as other themes. At Win A Day Casino, there are various slots for you to choose from with graphics and sounds to keep you entertained as you try your luck to win big.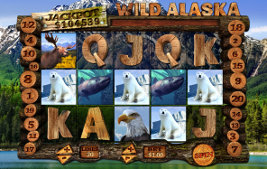 You also want to focus on how many reels there are with the slot games you're playing. Some games will have three reels while others will have four or five reels for you to play. More reels can require you to come up with more winning combinations to try and win, which reduces your ability to hit the jackpot.
When you play more reels, however, there are often more pay lines. If you can find slots that give you 20 or more pay lines, like what is common on Win A Day Casino slots, you have a better chance of winning something with each spin. While it might not be the jackpot, it is certainly enough to keep you playing for as long as you want to without going broke in the process.
With slot machines all over the internet, you have to be cautious about what site you choose to play and even what games you play within the site. Look at the reviews about the online site and see if you see any negative reviews -- such as whether it is hard to create an account or hard to collect your winnings once you are done playing.
Once you find a site that you are happy with, you can begin gambling on the site. Instant play slot machines can provide hours of entertainment -- but only if you choose a slot machine that you will enjoy. Check the theme of the game, how many reels there are and how many pay lines there are. Then see if you can afford it with the coin value available per spin. This will ensure that you can afford the entertainment that is in front of you.