Player testimonials
"I enjoy all of your games, it is difficult to to pick ONE favorite! I get bored quickly with other casinos but at Win A Day I just want to keep playing - its what a casino should be! As if that's not enough, the frequent bonuses, contests, tournaments, and other promotions keep me coming back to be a part of all the FUN! Win A Day, thank you!"
"I truly love this site and the best part is NO DOWNLOAD!! That and the fact that you have the most unique games is what causes me to continue to play. In addition to really enjoying the games, you have wonderful support staff. It's a lot of fun, good job!"
"Straight up guys, you nailed it, this casino is so new and different and so much fun. The odds are so fair, bonuses and games are too great not too invest in them. I've been gambling online for a long time and played in many casinos but have never had this much fun anywhere else. I highly recommend it!"
"I have played at many online casinos and I would just like to say that Win A Day is the BEST casino that I have played at. Their games are all one of a kind you won't find them anywhere else. The customer service support is fantastic. If you haven't played at Win A Day I suggest you do."
Never Wait Your Turn With Slot Games
Posted on July 9, 2014
Stepping inside of a physical casino can be depressing because all of the "good" slot machines are taken. There is more technology built into slot games than ever before. The brand new ones on the floor seem to have a wait a mile long of those who want to sit down and try their luck at them. This means that you have to wander around the casino floor with money burning a hole in your pocket until you can find a machine to sit down at.
The popularity of online gambling has increased significantly for this very reason. When you use online slots for real money, you don't have to wait for someone to get up from the table. You simply choose a game that you want to play and it's available to you.
The online casinos operate 24/7/365, which means you have access to all of your favorite slot games without ever having to wait your turn. The technology is so impressive that it allows multiple people to play the same game without ever telling you that you have to wait.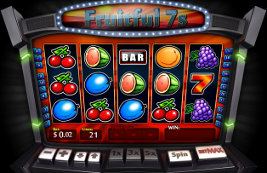 Even table games have evolved so that you don't have to wait. With online casinos, it used to be that you went into a room and if there was room, you could play. Now the technology senses that there is another person who wants to play and creates another virtual table for you to be able to play the game that you want.
You can play different slots while you are online. Whether you play the community ones or the individual ones, you can enjoy the game itself without listening to what other people say about it. There's nothing worse than listening to others talk about how great a slot machine is without being given the availability to play it for yourself.
A slot game should be accessible to you any time you want to play. Whether you want to play in the morning, afternoon, or night, it shouldn't matter how many people are playing the same game. If you want to play, then it is your right to pick the game you wish to play on, and begin wagering money on the different paylines before you spin.
Online casinos have been growing in popularity and the ability to never wait for a turn is one of the reasons for this. You can skip the line at the popular slots at the local casino and create an account online. You can load money into the account quickly and see all of your winnings go into the account. This will ensure you always have money in there when you want to sit down and play some slot games as a way to kick back and relax. Best of all, there will never be a line at the slots you want to play.