Player testimonials
"I started at Win A Day's sister site, Slotland, over 10 years ago, and I did not think that I would find an online casino that I liked better...that was until I played a couple of times at Win A Day! Playing here is so much fun, I have not been to my favorite land casino in over a year! That, is a loyal player!"
"I played on less than $20 the other day and this lasted me ALL day! My butt was tired from playing so long! I can't say that I have ever had that experience before. It was really fun. I LOVE your site. You offer the most unique gaming experience!"
"My loyalty to Win A Day for online play is due to the casino itself. They are the most generous online casino I've played at, the games are so much fun, bonuses are ample and the staff are just fantastic. Thanks Win A Day."
"Straight up guys, you nailed it, this casino is so new and different and so much fun. The odds are so fair, bonuses and games are too great not too invest in them. I've been gambling online for a long time and played in many casinos but have never had this much fun anywhere else. I highly recommend it!"
How Slot Games Can Evolve Over Time
Posted on October 9, 2014
There is a reason that slot machines used to be called the "one armed bandit". It is because they used to require a lever to be pulled down in order to get the reels to start spinning. Technology has evolved since then and slot games have been improved. Real money slots continue to improve and it's important to know what is now available to you.
If you visited a casino 10 or 20 years ago, you know that you put money in and you got money out. Casinos would keep buckets around so that you could put your dimes or quarters inside of it so that you could move from machine to machine.
This required a lot of money to be stocked in all of the machines. Technology improved so that people could put money in and then print a slip of their winnings. These winnings could then be cashed in at various machines around the casino floor or brought up to the cashier desk.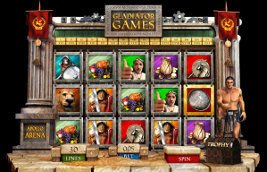 Now, people have player's cards that will keep track of their money so they don't even have to worry about losing the piece of paper. There is also the invention of the instant play casino where you don't even have to go into an actual casino to gamble. You can find one online where all of the same games await you.
The history of slots is quite dramatic. The idea of the one-armed bandit is still around and many slots still put the lever there for looks. When you play online, all you have to do is push a button that says spin and the computer does the rest.
With slot technology, the slot machines use computer coding to make everything work. This includes random number generators and more. The slot games are still fun - and are actually more fun than when the graphics were just lemons and cherries.
Today, you can experience music while the reels spin and there are graphics on the screen. Some of the graphics will even come to life when you get a winning combination. Some of the slots try to tell a story and as you play, the story continues to unfold. This is what helps you to sit at the machine for longer because you want to learn more about what happens.
With all of the technology that is found in the slot games today, it can provide you with a lot of entertainment. The online casinos allow you to play 24/7 and you don't have to go anywhere. You can simply stay at home and play the slots in your PJs. There are advantages to this, of course. It's convenient. You also don't have to wait for someone to get up from the machine you want to play on. You don't get the free drinks like casinos offer, but you do get to play at any time.