Player testimonials
"The games at Win A Day are so different to other casinos, they have so many unique features that really make them stand out! I will return to play here over and over again. When you combine the wonderful games, superior customer support and terrific daily promotions it's a no brainer. Win A Day is a winner for me!"
"I started at Win A Day's sister site, Slotland, over 10 years ago, and I did not think that I would find an online casino that I liked better...that was until I played a couple of times at Win A Day! Playing here is so much fun, I have not been to my favorite land casino in over a year! That, is a loyal player!"
"Win A Day is the place to play, come one come all. A place of fun and games galore! Great customer service, deposit bonuses and surprises. It's is the best casino and definitely worth your time. Thanks Win A Day for all you do, I will always support you."
"Straight up guys, you nailed it, this casino is so new and different and so much fun. The odds are so fair, bonuses and games are too great not too invest in them. I've been gambling online for a long time and played in many casinos but have never had this much fun anywhere else. I highly recommend it!"
Why Slot Games Are A Popular Choice
Posted on November 17, 2014
You arrive at an online casino and are bombarded with choices. There are slot games, video poker games, table games and much more. It's hard to decide where to spend your money. Slots are a popular choice for a number of reasons. The games are easier to figure out and there are many themes to keep you entertained for hours on end.
If you look at some of the other games that are inside of a casino, it can be intimidating. Texas Hold 'em requires a poker strategy in terms of betting. If you don't have a strategy, it could be an expensive lesson to learn.
When you begin playing slots, you instantly know how to play because they are simple to figure out. There aren't a lot of options. You choose how many pay lines you want to play and how much you want to bet and that's it. You then spin the reels and wait for them to stop.
There may be three or five reels within the slot machine. This can lead to a number of winning combinations and multiple combinations can be achieved in a single game. When you have more combinations, you have bigger pays.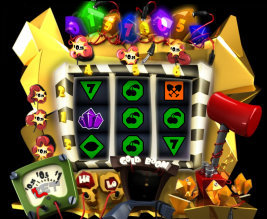 You can play online slots for real money, which ensures that you can win the money that you see entering your account. If you're not playing for real money, you are missing out on all sorts of incredible opportunities to win big.
The slots are random, which makes it easier to take the pressure off yourself. You don't have to know how to play. Well, anyone can play which means you don't need to be good at gambling. You have just as much of a chance to hit it big on a slot machine as anyone else does. There is no skill involved and this is one of the many reasons why slots are so popular.
When you want to play slot games at a casino, you can simply focus on the one that you like the most. Many are based upon TV and movie themes, so you can find one that appeals to your personality. When you choose based upon something that you enjoy, you will have more fun playing, even when you're not winning. This is the most important aspect of gambling. You should always be having fun. Winning money is just a bonus.
The more you learn about slot machines, the easier it will be to find ones that pay well and that you can have fun with. They are all completely random, so no slot is going to pay you more than another one in theory. However, some online slots are designed to pay you more based upon what a casino sets as the payout rate - and that can be discovered by reviewing the online casinos.