Player testimonials
"I played on less than $20 the other day and this lasted me ALL day! My butt was tired from playing so long! I can't say that I have ever had that experience before. It was really fun. I LOVE your site. You offer the most unique gaming experience!"
"My loyalty to Win A Day for online play is due to the casino itself. They are the most generous online casino I've played at, the games are so much fun, bonuses are ample and the staff are just fantastic. Thanks Win A Day."
"I am totally impressed, Win A Day surpasses itself with each new truly brilliant game. The graphics are awesome, the games play fast and the surprises you may get keep you on the edge of your seat with each spin. I feel like I am sitting at a slot machine in a land based casino....this is just so exciting."
"Straight up guys, you nailed it, this casino is so new and different and so much fun. The odds are so fair, bonuses and games are too great not too invest in them. I've been gambling online for a long time and played in many casinos but have never had this much fun anywhere else. I highly recommend it!"
Win A Day Casino Penny Slot Machine Games Can Make Cents (and Dollars!)
Posted on April 15, 2013
There are a lot of lights, action, and color, in slot machine games. A person can be entertained for quite a while from just one machine. But, don't stop at just one! There are so many different games that you can choose from picking just the right game to play might be the hardest part.
If you thought that the penny machines were just for those who did not want to wager a lot of money on one spin of the wheel, you might want to take a closer look at the penny machines. On some of the penny machines, you can wager as little as one cent or as much as $200.00! You can also choose virtually any amount in between as well. The choice is yours. How lucky are you feeling today?
The slot machine games at Win A Day instant play casino offer you an opportunity to play exciting bonus games giving you a chance to get some free spins. Some of them will even surprise you with a bonus game that appears at random. Another way to receive money is through the games scatter pay. Scatter pays are when a certain symbol appears on any line, anywhere, usually at a minimum of three times. Four or more scattered symbols pay even more.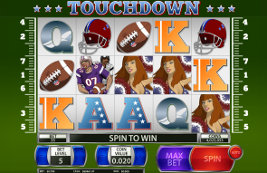 The penny games have themed characters and settings. Some are connected to a progressive jackpot. This gives you the opportunity to win even more money! If you are new to the penny games, you may want to read the instructions first. The instructions will let you know what characters pay what, how to get to the bonus rounds, how many bonus rounds there are, and what the pay-outs are. Be aware that some penny games require a minimum wager to qualify for bonus rounds or a super-jackpot.
The great part about penny slot machine games is if you are not feeling it at one machine, you can easily move on. There is no need to get locked into one machine, unless of course it is really paying off! Playing different games also gives you the chance to experience different characters and action. Variety is the spice of life!
One cent machines can provide hours of entertainment, and for many, that's what it is all about. Looking for some small budget entertainment? Penny slots can make a lot of cents and dollars!