Player testimonials
"I started at Win A Day's sister site, Slotland, over 10 years ago, and I did not think that I would find an online casino that I liked better...that was until I played a couple of times at Win A Day! Playing here is so much fun, I have not been to my favorite land casino in over a year! That, is a loyal player!"
"The games at Win A Day are so different to other casinos, they have so many unique features that really make them stand out! I will return to play here over and over again. When you combine the wonderful games, superior customer support and terrific daily promotions it's a no brainer. Win A Day is a winner for me!"
"Win A Day is the place to play, come one come all. A place of fun and games galore! Great customer service, deposit bonuses and surprises. It's is the best casino and definitely worth your time. Thanks Win A Day for all you do, I will always support you."
"Straight up guys, you nailed it, this casino is so new and different and so much fun. The odds are so fair, bonuses and games are too great not too invest in them. I've been gambling online for a long time and played in many casinos but have never had this much fun anywhere else. I highly recommend it!"
An Instant Play Casino Offers More Wide-Spread Appeal
Posted on October 1, 2014
Almost every online casino requires that you download software to your computer. This is less than desirable because you are limited as to where you can play. Even when the site is safe, you also run some risks of viruses because of downloading. The simpler solution is to use an instant play casino where there is no download required.
When you use an instant casino, you are able to play within the web browser -- be it on your desktop or notebook computer or your mobile device. The slots and various other casino games are operated by Flash and HTML Canvas. You get the same level of sound and graphics as you would within a software program, so your fun factor is by no means diminished.
Technology has been growing rapidly. SaaS, which is software-as-a-service, has become more wide-spread with the use of clouds. As people want to do more in a mobile environment, they look to the clouds in order to get the software they need - and all is obtained without downloading programs to an individual computer.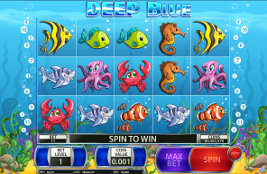 You're likely on the go a lot. Why should you be limited by where you can play all of your favorite slot games? An instant play casino allows you to play on any mobile device that you wish without having to download software to it. This makes it easier to play on any device that you may have access to. If you go to a hotel where there is a computer in the lobby, you can play instantly. The same goes for work computers, personal smartphones, or the tablet of a friend.
You have more accessibility to the online casino when there is no download required and this is ultimately more appealing to the masses. You can play when and where you want as long as you have an internet connection.
Another perk to the instant play casinos is that you don't have to worry about taking up valuable space on your hard drive. Some of the software that is required by casinos takes up a substantial amount of space - and that can limit what you have for music, movies, photos, and other things that you want on your device.
Especially when it comes to mobile devices, you don't have a lot of storage to begin with. If you then add more files to the computer just to play in a casino, you limit yourself on what else can be done with the device. The easier solution is to open your browser, choose a game to play at a casino, and begin playing.
When you browse the many online casinos, it's important to look at what is required of you. While many casinos require a download, there are ones that offer instant play - and this is gaining in popularity because of the desire to be more mobile with gaming opportunities. Once you discover instant play casinos, you will never download casino software again.