Player testimonials
"I have played at many online casinos and I would just like to say that Win A Day is the BEST casino that I have played at. Their games are all one of a kind you won't find them anywhere else. The customer service support is fantastic. If you haven't played at Win A Day I suggest you do."
"The games at Win A Day are so different to other casinos, they have so many unique features that really make them stand out! I will return to play here over and over again. When you combine the wonderful games, superior customer support and terrific daily promotions it's a no brainer. Win A Day is a winner for me!"
"Straight up guys, you nailed it, this casino is so new and different and so much fun. The odds are so fair, bonuses and games are too great not too invest in them. I've been gambling online for a long time and played in many casinos but have never had this much fun anywhere else. I highly recommend it!"
"I have cashed out at other places but you made the process unbeatable, you kept me informed throughout and all this at no cost to me. My new saying about your casino is "Why play with the rest, when you can play at the best!" Win A Day/Slotland casinos an experience you will never forget."
Can You Play Online Slots for Real Money?
Posted on September 16, 2013
If you are a fan of going to casinos and playing the slots, you may not be aware you can actually play online slots for real money. However, you may wonder if it is even possible to make the money you desire with these online slots. Before you make the choice to play online or continue to go to your local casino, it is critical to evaluate whether these slots can earn you the money you are seeking or if they are waste of your time.
Different Types of Slots
Whether you are looking to make a lot of money or you are in it for the fun of it, you can find online slots that require varying amounts for your bets, which means they will distribute winnings in varying amounts. For instance, if you pay the fun penny slots, allowing you to play more games for less, you won't be able to win as much money as you would on the other types of online slots. If you are looking to play online slots for real money, you need to evaluate how much money you are looking to win. If you want to increase your chances of hitting it really big, you need to play the regular slots instead of the penny slots.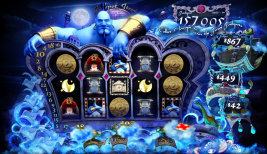 Progressive Slots
One of the best ways to make the most money when you are playing the online slots is to choose the progressive slots. As more people play the game, the amount of the jackpot will slowly rise until someone wins it. At that point, it will reset to a specific amount and begin building again. The best time to choose progressive online slots for real money is when the jackpot has built up to a fairly significant amount. Playing when the jackpot has just reset will decrease your chances of winning because an instant play casino want people to keep playing in an attempt to win big.
Bonuses
The beauty of many online slots is the ability to partake in bonuses that will allow you to make even more money. If you are careful about the online casinos on which you play on a regular basis, you will be able to take advantage of a variety of bonuses that guarantee you extra money over what you already make on the slot machines online. The use of these bonuses is mainly to bring people in to the site so you can win even more money.
Playing online slots for real money may not seem like the most lucrative way to make money, but it is certainly possible to make the money if you take the time to find the right slots online. When you look for an online casino that offers a variety of slots so you can choose the ones that will offer the kind of money you are looking for, as well as one that offers progressive jackpots and bonuses, you will enjoy great benefits and earn more money.
Featured Video:
Start Plaing Real Money Online Slots at Win A Day Casino!
Welcome to Win A Day Casino, the premier destination for real money instant play slot games!