Player testimonials
"I started at Win A Day's sister site, Slotland, over 10 years ago, and I did not think that I would find an online casino that I liked better...that was until I played a couple of times at Win A Day! Playing here is so much fun, I have not been to my favorite land casino in over a year! That, is a loyal player!"
"The games at Win A Day are so different to other casinos, they have so many unique features that really make them stand out! I will return to play here over and over again. When you combine the wonderful games, superior customer support and terrific daily promotions it's a no brainer. Win A Day is a winner for me!"
"I enjoy all of your games, it is difficult to to pick ONE favorite! I get bored quickly with other casinos but at Win A Day I just want to keep playing - its what a casino should be! As if that's not enough, the frequent bonuses, contests, tournaments, and other promotions keep me coming back to be a part of all the FUN! Win A Day, thank you!"
"I truly love this site and the best part is NO DOWNLOAD!! That and the fact that you have the most unique games is what causes me to continue to play. In addition to really enjoying the games, you have wonderful support staff. It's a lot of fun, good job!"
How Slot Games Work (Part 3)
Posted on December 17, 2013
Welcome back for the third part of Win A Day Casino's in-depth look at slot games. Today we will look at the very exciting experience of the progressive jackpot.
What Is Progressive?
A progressive jackpot is a jackpot for a gaming machine usually, slot games or video poker machine, where the value of the jackpot increases a small amount each game unless the player wins the jackpot. Normally slot games are linked together to form one large progressive jackpot that grows more quickly because multiple players are contributing to the jackpot at the same time.
Jackpot Meter
The amount of the jackpot is shown on a meter as a money value. Usually the jackpot can only be won by winning the combination with the highest payoff, like a royal flush at a video poker game, or five of the most valuable symbols like lemons, cherries, animals, diamonds, watches, etc. on slot games. Once a player wins the jackpot, the jackpot resets to a preset minimum level. The amount on the jackpot progresses, or increases, a small amount for every play on connected casino games. The amount that the jackpot advances by is set by the casino, which is called "the house". For example, on a machine whose house edge is 5%, a generous jackpot contribution might be 1% or one fifth of the expected profit. The house is prepared to contribute some of the profit of a jackpot linked machine because players are intrigued by the attractive novelty of progressive jackpots, constantly changing meter, often displayed on large screen above the machine, and the large amount of the jackpot, which eventually motivates more players to play the game.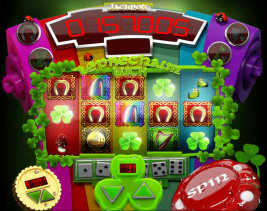 Qualifying To Win Big
Usually only players who wager the maximum number of credits per play qualify to win the jackpot. All wagers, whether or not they are maximum credit bets, contribute to the jackpot though. As a result, a game which requires a 10 credit wager to qualify for the progressive jackpot will tend to have the progressive jackpot rise to higher levels than a game that requires only a 5 credit wager to qualify.
Jackblack
Progressive blackjack game usually does not differ much from the conventional blackjack. Both game variants have the same rules of betting and creating a hand, but progressive game allows the player to place additional $1 bet which gives the chance to win progressive jackpot. This bet wins in case the player holds a specific card combinations if the cards are dealt consecutively. In fact the player gets the special progressive payout awards, which range from several dollars up to 100% of the whole pot.
Other Games
Progressive jackpots are not limited to slot games and video poker. Poker games sometimes include a progressive jackpot. Keno is another casino game which often has a progressive jackpot available, and some online casinos offer progressive versions of roulette, and other casino games.